I don't usually do a whole lot for my birthday, but there are some years when the day feels significant for some reason. This was one of those years, and so my husband put together a full birthday weekend for me! It was very sweet of him. :)
The weekend started with a walk with fellow sparker and IRL friend Stephanie (INEEDACAT9). Got to get the party started right, with some fitness to balance out birthday treats, right? Jason planned a day of treats I don't normally get to have anymore, because of their inherent gluten-ness. Sausage kolaches, beef empanadas, brownies with cookies-and-cream ice cream and home-made chocolate sauce, all gluten-free varieties! It was fantastic.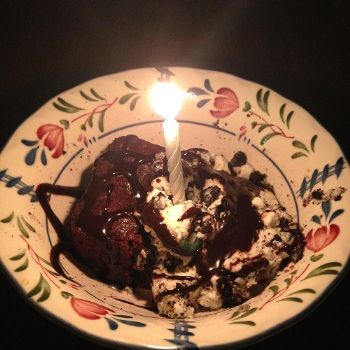 At lunch that day, Jason and the boys sang happy birthday to me, and gave me my presents. Apparently, they decided they were throwing me a "vice party" this year - we often have themed birthdays - and bought me fun new k-cups, a new k-cup tray to put under my Keurig, a bottle of sparkling red wine, some Bailey's Irish cream, cookie-dough-flavored peanut butter, lots of chocolates, and a gift card to Victoria's Secret that I'm looking forward to spending now that my stomach is all repaired. :D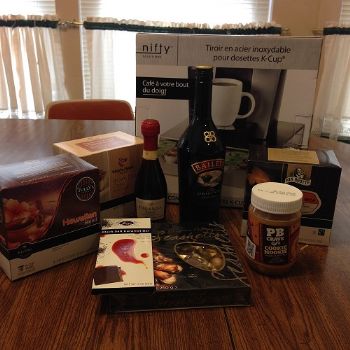 In the afternoon, we all went to the thrift store, where I found several new fantastic outfits to add to my budding wardrobe. Note: I was incredibly excited to try on size 8 and size 10 pants instead of 12s and 14s. I was even more excited with most of the 8s fit, but most of the 10s did not, though to be honest, the 10s must have been in strange brands, because the ones that didn't fit were all SMALLER than the 8s...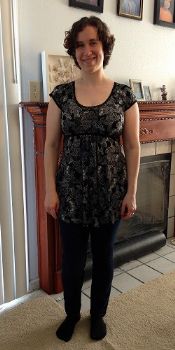 That's one of the outfits I got - LOVE that shirt, and those are my second pair of skinny jeans, haha! These ones were (bizarrely) incredibly comfortable and soft. I'm not used to the idea of "skinny jeans" and "comfortable" referring to the same piece of clothing! My boys all bought new outfits as well, from a "Talk Nerdy To Me" t-shirt for my oldest, to a formal vest and tie for my middle son, to a green-pants-and-green-sweater St. Patrick's Day ensemble for my youngest. Plus, I got the first of the 12 fun coffee cups I plan to collect this year.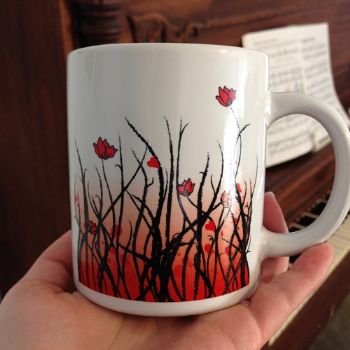 Most of the evening was spent reading, just enjoying some off-time. I managed not to overeat despite the birthday treats. Then, on Sunday morning, the celebrations started all over again. And, as I did the day before, I started the day out with fitness to try to counter-balance the day's treats. I ran my first full mile post-op, just at an easy pace that I knew I could keep up for longer than a mile if I had to. I was surprised that I came in at 11:18, which I think is pretty good for not having really run for two months and for being seven weeks post-op!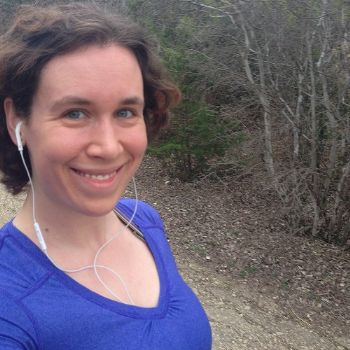 The big party began in the afternoon - a spa party! I've never been to a spa before, except for a semi-spa on a cruise, so this was a very new experience for me. The idea has been flitting around my head for the last few months, but it was Jason who took charge of making it happen. He invited everyone, he set up the appointments, everything. I went with my cousin Jen, my cousin-in-law Gina, my stepmom Lauren, and my half-sister Julia. I know it might seem a little weird that I invited all family, rather than friends, but my family is very, very close. Like, I saw my cousins every weekend kind of close. They're my best friends - MORE than best friends. They feel like part of me. I knew this had to be a small party - we don't have THAT much money! - so instead of trying to pick and choose friends and feeling bad about who I could and couldn't invite, I made this a family affair.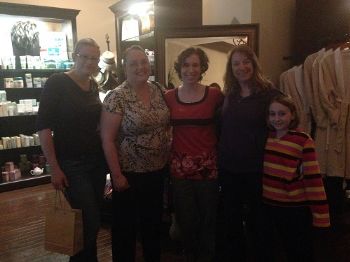 Jen, Gina, me (in another of my new thrift store outfits!), Lauren, Julia
It turned out wonderful! We all sat around in a plush lobby smelling of patchouli, wearing fluffy white robes while we waited our turn for massages (except Julia, who as a minor had to get a pedicure instead, though she really enjoyed that). I got a deep tissue massage, while the other three got Swedish massages. It was fantastic! I really enjoyed the experience, and my masseur worked really deep into a lot of the muscles around my hips and legs, which have really needed it! All of us - except Julia of course - came out of our massage rooms with messy hair from the scalp portions, so we all look a bit flyaway in the above picture, haha!
During the hours spent at the spa, the weather turned drastically. We were all wearing short sleeves and flip flops, and very few of us brought jackets. The cold front wasn't supposed to come in until the middle of the night! By the time we left the spa, however, it was in the 30s out. Eek! Jen and Gina had other places to be, but Lauren, Julia, and I rushed next door to California Pizza Kitchen, where they now have a few gluten-free pizzas! Lauren has celiac, so we split a gf pizza. It was delicious! And my first REAL pizza since going gluten-free nearly six months ago. Woohoo! Afterwards, the two of them went to get frozen yogurt, but it was WAY too cold for me, and I could feel that something was blowing in with the cold front, giving me a tingle in my throat.
Alas, I was right, and this morning I have a pretty nasty head cold, boo. At least it waited until my birthday weekend was over!! It was a perfect weekend, absolutely fantastic. I saw friends and family, got to do many of my favorite things, had some great new experiences, and managed to maintain my weight despite tons of party treats. Woohoo! A great welcome to age 35. :)