Sunday, March 02, 2014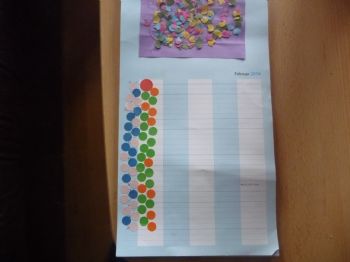 as you can see at a glance i did better this month with my eating but alot worse with my drinking or should i say not drinking diet coke.here is the breakdown
16 pink dot(for a drink diet cola on this day)
12 blue dots(days i had no diet cola)
1 red dot(repersents eating that would cause weight gain)
9 orange dots(repersents eating that would cause a maintain)
18 green dots(repersents eating would cause a loss)
so like i said did better on the eating and worse on the drinking diet cola.for comparisment here is january bilance.
5 pink
26 blue
8 red
10 orange
13 green.
remember that there were more days in january.
just a photo to make you smile.aymans facepaint i did as a lion for fasching.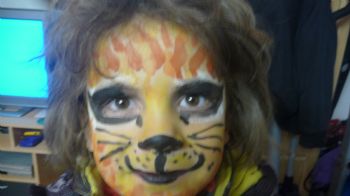 once again i thank you for taking the time to read this blog and an extra thankyou if you take the time to reply.take care and keep smiling.my next blog will probably be when i come back from my op to let you all know how it went.