Thursday, February 27, 2014
So the last time I did a blog was back last August. Wow the months have just passed right on by. I lost my job back in July and they had called me back in Septemember and rehired me to only let me work for a month and then laid me back off for the same reason in Oct. This screwed with my unemployment and I never got that all straightened out until just a few weeks ago where I got all my back pay at once which wiped out my unemployment fund . That is ok though I got a job offer for a collector trainee back at the end of Jan to start on Feb 3rd so far so good only two of us in my training class have actually made it through. Tomorrow is our last day in training. While this is not something I see myself doing for the rest of my life I am excited to have a steady paycheck once agian.
My weight at the end of January hit my all time high of 410 pounds. I have tried not stress about it my lemphadema is out of control but I just have to deal with it until my insurance takes effects and I can get that started back up again. I decided to weigh my self monday and I was back down to 397 and I was so excited. I got on the scale this morning and saw it had went down some more and now im at 392.4. I am still off all of my medicines that I was before I have my bad days but for the most part my mood has greatly improved since I have gotten my job.I'm still full of nerves so I haven't been hungry but I do eat a KIND Bar everyday at lunch and that keeps me full and going till dinner which I don't even eat that much at dinner anymore. I haven't been able to eat breakfast but I'm usally sick to my stomach in the morning. I plan on starting my DDP Yoga again this weekend I like to work out at night so I need to get a schedule together that works for me so I will keep it up. I also got a new belly dancing DVD that will go well with my yoga and my hula dancing Dancing stuff too.
January 20th I turned 30 years old. I'm so hoping that I can get this weight off and get healthier during my 30's my twenties are behind me and I'm looking forward to what my 30's have in store for me. At the end of January my hubby brought home a new dog. last year we lost two of our dogs Lady and Gretel so having a new puppy in the house is nice. He is a pain in the butt and loves to chew up stuff but I love him so much already. He is less than a year old and he looks like a mix breed of some sort. His name is Sir Nacho (my husband named him that). My hubby found him on the side of the road in a ditch after a bad rain storm had hit a while bacl while he was at work. He is now ours for the rest of his life. Well I better get to bed my Piggy and Nacho are both trying to get my attention so we can go and cuddle before we go to bed. I so love my "fur" babies :) Hope everyone has a great weekend!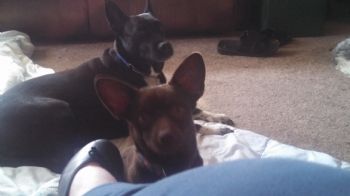 Here is a picture of my Fur Babies (Pig is the Black one and Nacho is the brown one)