Thursday, February 27, 2014
Last week when I was grocery shopping I saw something in the organic section at Wegmans called, Kelp noodles. I've been trying to limit my consumptions of breads and pastas so I thought it might be nice to try.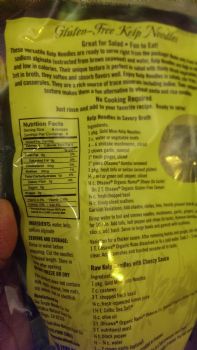 They don't require cooking and you can eat them right out of the bag. So, last night, I finally opened them up and tried them...
Right out of the bag, they are crunchy and have absolutely no taste at all. I mean NO TASTE at all. Of course, it says that on the packaging but I had to see for myself. It's a weird sensation to be eating something that has no taste. This is what they look like in a bowl... it's about 3 ounces of the noodles in this bowl: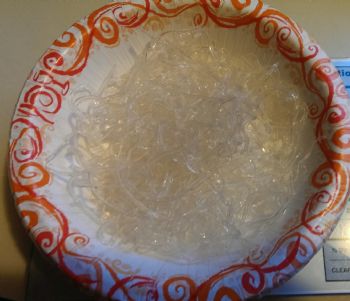 These noodles are super low in calories... only 6 calories per 4 ounces!
But, the plan was never to eat them plain... I bought them to try with spaghetti sauce, and that's what I poured over them last night. They just absorb the flavor of whatever you mix them with and they become soft and the crunch disappears. So, if your sauce or broth is good, the noodles will be good. And mine was good! :-)