Hello! Back from vacation. It was....difficult. I guess that is the best word to describe, and you'll understand why as I explain how the vacation went...
Thursday after leaving work, I rushed home to eat dinner and change, drop my dog off at boarding, and then go to dance class. I wasnt really in the best of moods - I was feeling sad for no apparent reason - dance helped, but I still felt sad when I got home. I finished packing and cleaned up my house a bit, and got a few hours of sleep before having to be up at 3am Friday morning!
I made it to the airport at around 5am and my flight boarded at 5:40ish and then we sat on the runway for a while because of microbursts (when wind reaches over 35mph)! Luckily, we werent stuck there too long, and I made it to Denver with enough time to make it on to my next flight! Then, we got delayed again, after boarding. We ended up sitting on the runway for about 45 minutes because I guess Florida was having some bad weather and they didnt want anyone taking off since planes hadnt landed there yet. My mom had the same issue on her flight, too. But after 45 minutes, we finally got going. I spent most of the flight reading a book, and the flight itself was pretty uneventful. Once I landed, I met up with my mom in the baggage claim area, and then we went down to board the Magical Express to our resort- Disney's Beach Club! It was about 2:30pm when we got to board and it was pretty humid out but not overly so. We took our shuttle to the resort and pretty much everyone on the shuttle was running the half marathon that weekend. Check in was super easy since I had checked in early online. We then headed up to our room, and it was really nice! We had two queen-sized beds, and even a balcony! This was our view from the balcony:
Of the three resorts I've stayed at in Disney World, this was by far my favorite, and the most expensive, of course. But well worth it. It wasnt crowded, there werent tons of children running around screaming (that was a huge complaint of mine when I stayed at All Star Movies), and it was more hotel-like so you got to your room through an interior hallway - both of the other resorts I stayed at had outside entrances to the rooms. And this was the only place I've stayed with a balcony. I loved that it overlooked the pool, and the lagoon to Epcot, and you could see the Boardwalk!
After getting settled in on Friday, we took the bus to Downtown Disney. We had dinner reservations at Paradiso 37, but we got to Downtown early so we did a bit of wandering and shopping first. We got to the restaurant about 15 minutes before our reservation time, but they seated us when we got there, so that was nice. We must have gotten there right befor a crowd hit, because when we left it was super busy! The food was delicious! We had splurged and gotten the meal plan, so our meal included an entree and a dessert. O my goodness. The dessert was delicious. After dinner we did some more wandering and shopping, and then headed back to our resort for some sleep.
On Saturday morning, the first thing we did was head to the race expo! It was so exciting being on the bus to the expo with so many other excited runners. I love the disney race expo! It was well organized, too. I went and signed in, picked up my bib, and then we headed to another building to get the race shirt and bag, and to do some shopping! I had a $200 disney gift card, and I used some of it on runDisney merchandise. I got the "I did it" tshirt and a runDisney hoodie. I also did some shopping at other vendors, picking up two sweaty bands (my favorite for running!), a long sleeve tshirt, a 13.1 magnet, body glide and a princess running hat. I also bought a sparkle skirt, since my tutu-making didnt go so well. And I got these large pom poms to put on my shoes! Obsessed! Also, while at the expo, my mom bought me my birthday present. It is one of those pandora-look-alike charm bracelets!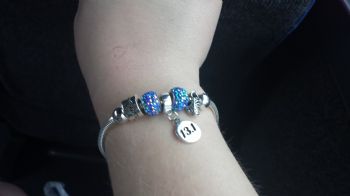 We were able to custom make it, choosing the beads I liked. Surprised that I went with blue instead of pink? I really like those blue beads, though. It was a running sneaker, a 13.1 charm, and a princess bead. :) I will definitely be adding more!
After the expo, we went back to our hotel to drop off my stuff, and then we took a boat to Hollywood Studios! We ate lunch at one of the quick-service places, and then it down-poured and we were unprepared without umbrellas or ponchos! We literally ran from the food place over to Star Tours just to get out of the rain. I really like Star Tours :) When we got done there, it had stopped raining, but we did stop in a store and pick up ponchos just in case. After it rained, my right knee started feeling really sore, which definitely worried me a bit! We did a bit more walking around and shopping, and then left and headed back to our resort. Hollywood Studios is probably my least favorite of all the parks. Oh, we did also go on the Great Movie ride. I like that one, too. Anyway, after we got back to our resort, we changed out of our wet clothes, and then headed to Animal Kingdom because we had dinner reservations at The Rainforest Cafe! I love that place. My dinner was absolutely amazing, and we also got dessert - chocolate cake. Delicious! It was raining yet again, so instead of wandering around in Animal Kingdom, we went back to the resort to get to sleep early since we had a really early wakeup the next day!
On Sunday, I got up at 2am and showered real quick just to wake up (and shave my legs!). I ate a small bown of rice krispies with soy milk and then after getting dressed, my mom and I headed down to the bus to hopefully catch the first one at 3am, which we did! Wow so early. We got to the race site very, very early. I was able to get my picture taken in front of one of the half marathon signs, so I guess getting there early was good. This was my running attire:
Check out these pom poms: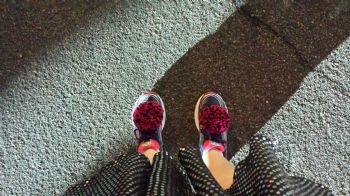 At around 4:45am, I split up from my mom and headed over to the runner's only location, and at around 5am we all started heading down to our corrals. I was in Corral G. I got situated in my corral, and did as everyone else did: sat on the ground! It was a long half hour wait. I stretched a lot and tried not to freak out too much! Even though I've run half marathons before, and I did all of my training runs, I still started panicking about being able to finish! Go figure. It was super foggy on race morning which meant the temperatures felt really cool. I think it was only in the low 60s before the race started, and when I finished it was still only 67 degrees!
I think my corral finally started a little before 6am, and I was so excited to be off and running! One of the first things I noticed was how many people were run/walk/running! I guess I never noticed before because I never used that method in a half marathon. This was my first time and I think it paid off! I did 4 min / 1 min intervals and that worked well the entire time for me! Being in one of the middle corrals, I have to tell you, it was really congested! Especially in areas where we were only running in one lane - I spent a large part of the entire race just running around people! I was so happy when the lanes would open up into two lanes, but when it would close off again it was a struggle trying not trip while passing people. It was frustrating when people were also running 3 across. When I went through the castle, these three girls in front of me grabbed hands and practically walked through the castle! I almost fell over them because I was trying to get around them - I felt like I had been thrust into a game of Red Rover! But that was really my only complaint about the race. The weather was amazing the entire time. Because of the fog, the sun didnt really come out while I was running until the end, so it never felt too warm or hot. I got water and powerade at every single stop, and had absolutely no stomach problems at all! At around mile 11, my left calf cramped up and it would periodically cramp up the rest of the race. This had never happened to me before, but I got through it. I had a knot in my calf the rest of the day, but it is fine now. Oh, the only other thing that we weird was that my Garmin wouldnt pick up a satellite signal! I think it was because of the fog, because onc the fog started to let up towards the end, I was getting a signal occassionally. But really, that meant I had no idea what my pace was the entire time, and at every mile marker, I had to figure out how long it took me to get from the previous mile marker so I would have some idea of what my pace was. Overall, I ran at a pace that was comfortable, but faster than my training runs - which is what you are supposed to do, right? Did anyone else have problems with their Garmin? I know the model I have has had some GPS signal issues, but this was only the second time I used it (the first time I had no problems). Guess we'll see in the future if it continues to be an issue!
I ended up finishing the half marathon in 2:17:27 (chip time - my watch time was 2:17:31). Not only did I beat my July 2013 half marathon time by 12 minutes (!!) but I also beat my previous Princess time from 2011 by 2 minutes! Such an amazing feeling! I was so, so happy when I crossed the finish line and saw how well I had done! I beat both of my goals!
How great is this medal, by the way?!
After the race, I stretched a lot, drank a powerade and ate a luna protein bar. Then I met up with my mom, who had nothing but complaining too about pretty much everything. It very quickly deflated my mood :( This is essentially where the vacation became much more difficult for me. See, my mom has been having really bad reactions to her chemo and the medicine they give her to help with the chemo - so she doesnt really act like herself. Also, she was sick with a pretty bad cold before the trip and didnt seem to get better. I felt very sympathetic for her, but I am not going to lie - it was also extremely frustrating!
We took the bus back to our resort, and while I took a nice long shower my mom took a nap. So while she slept, I rested on the balcony, reading a book, drinking water, and enjoying the temperatures warming up a bit. At around 11am, we took the boat to Epcot! We had a quick-service lunch and then went to the Nemo / aquarium, and a few other things that were not in the world showcase. My legs were getting really tired, and my feet were hurting from the sneakers I was wearing, so we only stayed there for like 2 hours, and then we went back to our resort. My mom took another nap since she wasnt feeling well, so I did some more balcony relaxing and reading. Then we took the shuttle bus to Downtown Disney because had dinner reservations at the House of Blues restaurant. O my goodness - the food there was so good too! I had a buffalo chicken salad and it might have been the best salad I have ever eaten! We were so full after our entrees that we just forfeited our dessert portion of the meal because we could not possibly eat anymore! We walked around Downtown Disney some more, but I was so exhausted having been up since 2am and not taken any naps, that all I wanted to do was go to sleep! So we got back to our resort and I think I was asleep before 9am!
On Monday, we had breakfast reservations at the Cape May Cafe, which was in our resort, and it was a character breakfast! We got our pictures taken with Goofy and Minnie Mouse :) After breakfast we went to the Magic Kingdom, where we spent probably a good 6 hours. We got fast passes for the Jungle Cruise, Pirates of the Caribbean, and the Haunted Mansion - the only rides my mom wanted to go on. We also ate some delicious ice cream at the ice cream parlor on main street and did quite a bit of shopping. We went to Stith's Great Escape, and the Monster's Inc Comedy thing as well. We eventually had a quick service dinner before heading back to our resort. Then after we dropped our things off, we went back to Epcot and walked around the World Showcase. I wanted to try to stay and watch Illuminations, but I was so exhausted, I felt like I was falling asleep walking! So we did a bit of shopping - I got three different wine stoppers - and then we took the boat back to our resort, packed up our things for the morning, and I immediately fell asleep!
Tuesday morning we got all of our stuff together, did airline check in at our resort, and then waited for the shuttle back to the airport. My mom's fight was leaving a half hour before mine, so we got to the airport really early, ate something quick in the terminal, and then I sat with my mom for about an hour before we split up and waited for our separate flights.
Overall, to be honest, this was probably my least favorite vacation. Dealing with my mom was extremely difficult because of everything that she has been going through - she's not really herself, and I kind of just didnt really know how to react, but I also felt like her complaining and being miserable pretty much the entire time really put a damper on the trip. Also, everything at Disney World reminded me of J, since my last legit vacation to Disney World was with him, and everything was "oh, J and I did this.... J and I did that..." etc. I had made reservations for dinner at places he and I hadnt been to, and we stayed at a differnet resort, but just being in the parks, etc. I think it might not have been so depressing if I wasnt already having such a difficult time. But I think all of it at once was really difficult for me.
I am really, really happy with how my race went, though! The race really could not have gone better. Knowing that I did this well, and I am still 10lbs heavier than I want to be, has inspired me to really get cracking on losing the rest of the weight. It's also motivated me to continue training and registering for more races so I can continue to improve!