Three years ago today, I joined Sparkpeople. I was already 15 months and 27 lbs down on my weight loss journey, but I was starting to slip up on my own. I knew I needed a support system, or I was going to fail spectacularly. A few friends of mine had mentioned Spark, so I decided to give it a try. My first day, I nearly quit! The site had so much on it, I felt overwhelmed and trepidatious. But then, a whole bunch of people from my local San Antonio spark team came by my page to welcome me, and to reassure me that things would get easier quickly. So I stuck around.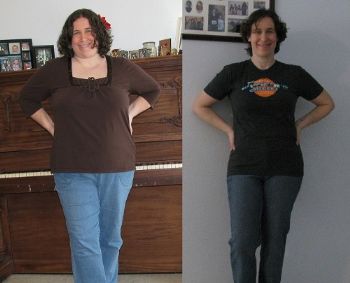 (me, not long after I started at Spark, vs now, at my three-year Sparkversary)
Soon, I was hiking and attending fitness classes and walking 5Ks with members of my local team. I met up with some by accident in restaurants, and participated in some of their challenges. It was more than I'd ever dreamed of when I'd sought out a support system. I branched out to other teams, found other support systems here, found other sparkfriends. A few of my non-Spark friends joined the site because of my success here. Every day, I saw something new, met someone new, learned something new.
Nothing has changed in the last three years. Sometimes I've been more present than others, sometimes quieter than others, but I've been here, and there's no other place like Spark. I know that without this site, I would not have accomplished the things I've accomplished.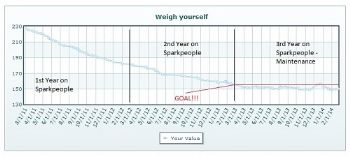 February 25, 2011 to February 25, 2014. It's been a good journey, with a lot of wonderful achievements. In the last three years, I have:
- reached my goal of losing 100 lbs and maintained that loss for a year
- lost 94 inches in addition to those pounds
- run full 5Ks and 10Ks
- walked/ran a half-marathon with my local Spark team
- fit into clothes I haven't worn for well over a decade, including my wedding dress!
- ridden a bike and gotten on a swing again (both fears of mine)
- come to recognize myself in the mirror again
- learned to eat freggies regularly for the first time in my life
- beat an addiction to fast food
- built strength so that I can do pull-ups and chin-ups again
- improved all my health measurements (blood sugar, cholesterol, etc)
- met so many new friends
- gained a ton of self-confidence
Those are some amazing accomplishments in three years, and I have Spark to thank for helping me to reach each of them. :)