Today's training session was a long cycle ride for me. A longer ride, breaking new ground in both distance and time. Recalling last weeks long ride, a 31 miler, and how tired I got, I thought I'd eat and drink more this time. Also, I intended to start slower, and not push so hard, to save some energy for the final miles. I planned on doing 35 to 40 miles and at least 3 hours time, depending on how I felt.
I started out slowly, and took nutrition every 30 to 40 minutes. I had Fig Newtons, a Clif bar, 3 GUs (2 of which had caffeine), and 32oz of Gatorade. There were places along my route which had water available, so as I drank Gatorade I planned on refilling with water.
I did so much better today. I finished with 40 miles, 39.94 to be exact, which took me to my door. My time was 3 hours 13 minutes. The best part was that I didn't feel totally exhausted and drained of energy. I did get to stop and rest when I had a flat tire, but I stopped my watch while I changed it.
Happy to report I'm improving little by little. I even got to ride aero (using tri bars, and drop bars) a good deal of the time. When I first tried to ride aero I could only do it for a few seconds at a time. My body just isn't as flexible as it was, so I had to learn to maintain balance and feel comfortable in this new position.
So, I'm a little stiff right now. Sore shoulders and legs. My troublesome knee feels fine. Hope muscles and knees are all okay tomorrow!
Thanks for reading and have a great day.
edit: I had a request for a picture of my bike. I don't have any of me with the bike just yet, but here's a picture from the web. It's a Windosr Bristol, an 'entry level' road bike fit with tri bars and pedal cages. Works fine for my bike fitness level, and the cost was right for me.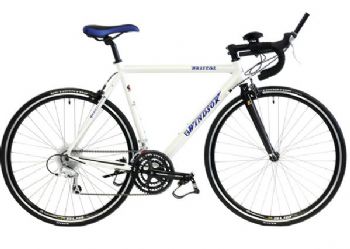 I've added a new seat, water bottle cages, Gatorskin tires and various pouches for food, spare tube and tools.