Accountability Day!
Sunday, February 23, 2014
Well I'm a day late but I have good news! 2 pounds down since last week! I didn't track and only exercised once though. Simply because of everything going on with work and Eric I didn't even think about it...bad mistake. I think I lost because I missed some meals with everything going on.
This week it's exercise on my gazelle Sunday and Thursday, belly dancing Tuesday, and Saturday yoga! Also, I'll be tracking every day. Hopefully no more gaining this 2 pounds back EVER! (Prayers welcome on that by-the-way!) Now for some motivation!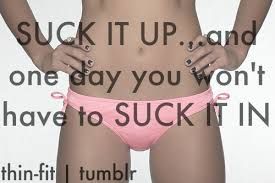 And I'm soooo doing this next one!