Sunday, February 23, 2014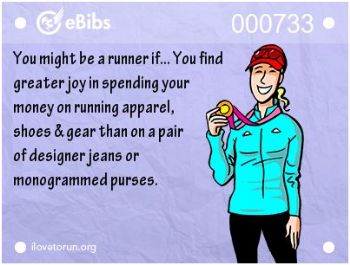 I saw this on Pinterest and it made me laugh. I desperately need to go and get clothes for work - however I had saved some gift money for three months and got....a new pair of running shoes! Yes! For Christmas, my husband got me - Under Armour! Yes! So Happy!!!!! (Note - I still need to go shopping for apparel other then workout gear.)
Today I went for a 6.5 mile run with my best friend and got to wear my new shoes for the first time on a longer run. We took a nice easy pace and had a great time catching up. There is a great track around a shopping center that is not perfectly flat and has some small hills and dips. We ran to the track from my house and then back again. The run felt great and we just enjoyed the fact that:
1. We were outside and not bundled up like Ralphie from the Christmas Story
2. We could hold a conversation while we were running
3. It felt great to get out and run - we were enjoying the run (What?) lol
4. We discovered a track that did not feel like a track and was snow free
5. Our kids are older and now we can pick up and go for a run like this
Life is Good!