I ran 10.3 miles today. Ha! I've never run that distance before. Here's how it panned out:
Woke up at 6 to feed the girl and send her outside, luckily she's a dog and didn't seem to mind it. Drank 2 glasses of water, looked at the clock and said 'nah' then headed back to bed. Got up again at, ahem, 8 and ate a 1/3 cup of oatmeal, a few walnuts and a smidge of banana.
Headed out to my favorite dam trails where I was met with water. Everywhere. Well, even more than usual because it is a dam after all. The melting snow has caused minor and major flooding around these parts. But there was one water-free trail, which I looped twice. Really wish I had brought music because that one song in my head was getting pretty stale by the 10th mile. Here are the stats:
Temp: Clear, started out at 39 degrees, ended at 51 degrees
Mileage: 10.3, not added in was .5 mile of cool-down
Time: 2:21:00
Pace: anywhere from 13:26 to 13:39
I tried a new fuel today: GU. It was great--a lot better than the Shot Bloks I tried for my first lengthy run. This stuff didn't need to be chewed and fit right into my small hand carried water bottle pouch. Perfect. It was the Salty Caramel variety: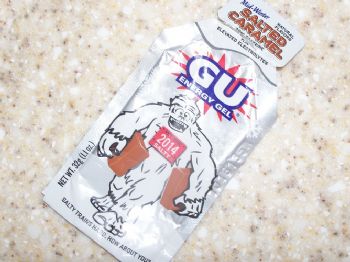 If you have these kind hoard them! Or better yet send them to me! I could make a meal replacement plan with these things. They are delicious--no aftertaste, easy going down. I had half of one at mile 7 and finished it off at mile 8. Probably should have started earlier, but the oatmeal was still with me.
Good run today and I also saw the world's fattest chocolate lab. He looked a little like the dog from 'Up":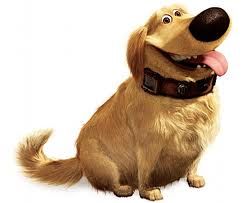 Lucky for him he was out on a walk.
Onward and upward!