Saturday, February 22, 2014
Starting weight: 137
Last weigh-in: 126.2
End weight goal: 120
Although there is a gap here - from Day 1 to Day 10 - I've been actively posting about my experiences over on the Official Tame Your Sweet Tooth Challenge team board. What I will say here is that it has been a tough ten days, but the first few were the absolutely worst. Each day since then has gotten progressively easier. The sugar urges are fewer, and I now have enough experience with them to understand they will pass if I can just sit with them for a few minutes.
I'm actually now beginning to dislike sugar and everything it represents. The difference in my mood and energy when I avoid sugar is marked and wonderful. No ebbs and flows, no fog, no craziness, no weight gain, no self loathing.
I will continue to avoid sugar for the next week, then re-evaluate if I want to begin allowing it back in on a once a week, special occasion basis, similar to how I approach alcohol.
OK, back to my Just For Today postings:
- Just for today I will meet my Saturday running group for a six mile trail run.
- Just for today I will attend a lecture on organic gardening in support of my friend that is giving it.
- Just for today I will avoid processed sugar at the evening event I'll be attending. I have free reign to enjoy veggies, clean foods and a small glass of wine.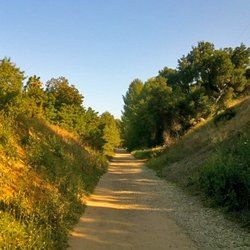 Where my good health and fitness will permit me to run this morning.