A great Spark Goal for me would be able to balance my daily calories, exercise and art work. Today I did two out of three. Darn...I have to do bills and housework sometime too. I like the reflective time on Spark to be able to learn, grow and share.
Hardy breakfast--egg, sausage, fruit, latte, water
Morning painting work: "Mosaic Pear"...Wow, this was a project choosing colors by their correct values to create a pear. I decided to do mine in quadrants and make four pears. It was so much fun and I'm pleased with my result.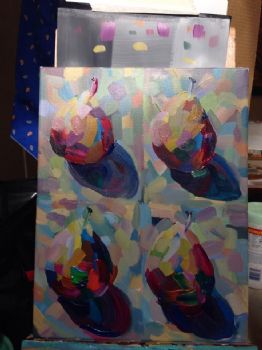 Light lunch- vegetable soup, water, tea
Shared lunch with art workshop friends:)
Afternoon painting work:
I made a value sketch of tulips in a vase.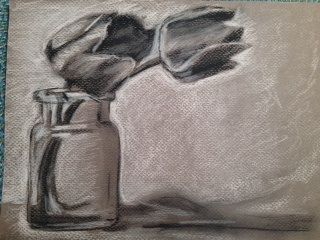 I'm still working on the finishing touches of some other paintings.
My hand busy at work....
NO WALK TODAY:( Just standing all day at the easel.
Dinner-red peppers, onions, chicken sausage, water
Dessert-red wine, chocolate and almonds
110 calories over. Not so bad.
Hope to paint something good tomorrow during the last day of my workshop. It has been so fun and I met so many friendly and talented artists here. Already wish I didn't have to pack up and leave our cottage tomorrow. But I'm looking forward to going to Napa Saturday to celebrate my best friend's birthday and give her the painting I made...yay!!
Happy Healthy Friday to everyone tomorrow. Boy, do I miss my scheduled exercise. I'm looking forward to attending some Zumba and walking more next week. Oh, and yes....more arm weights, arm weights, arm weights!!!