Gorgeous
Tuesday, February 18, 2014
This is my lunch for the week: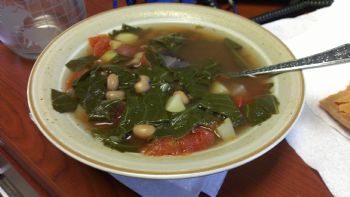 The cookbook I made this from calls it a stew but it's really just a soup.
4 cups vegetable broth
2 cups water
1 bunch collard greens, chopped
2 cups chopped red potatoes
1 can diced tomatoes
1 can black-eyed peas, drained and rinsed
Bring broth and water to a boil. Add collard greens and simmer, covered, for 15 minutes. Add potatoes and tomatoes, and simmer with the cover on for 12 minutes, until potatoes are tender. Add black-eyed peas until heated through. Add salt and pepper to taste. Serve immediately.
This is how I prefer to eat -- simple, healthy and delicious!