Work - Well, it's been a few days. I had a few good surgeries last week, most notably a digit amputation. I really like these kinds of surgeries...spays, not so much. It was also a really bad week. I diagnosed far too many horrible diseases and put down far too many beloved pets. So much badness. It is such a gift that we can offer our pets humane euthanasia. Giving them this gift of taking away their pain is amazing. It is amazing with how many people I bond over a euthanasia. They are always so strong and brave. I will never be able to be around when one of my babies is euthanized. I just won't be able to do it. Ok, enough of that. This is too depressing. It has just been a really difficult week. There are so many things I dislike about the place where I work. But what will never change, no matter where I work, is that the best part of my job is the pets and their owners. I'm always happiest in the exam room.
Food - I've been doing great with Paleo over the last few days, although I do have to admit that it can be difficult to get all of my calories in. One day, work was so busy...I only got about 600 calories that day. Today? Ugh. Haven't even logged them. That's what happens when you go without calories...you always make up for it by over-eating. I'm still struggling with wanting something sweet after eating, but usually a cup of tea with some raw honey helps. I'm working on not obsessing about dessert. It isn't like I usually eat dessert. In fact, I rarely do. But something about protein makes me *crave* sweets. I'll get over it. In the future I might allow myself sugar-free, dark chocolate. But not now. Now, it's "oh, well" time. I want something sweet for dessert...oh, well....so I had a few tiny cuties.
Here is what I ate for dinner yesterday at my parents' house: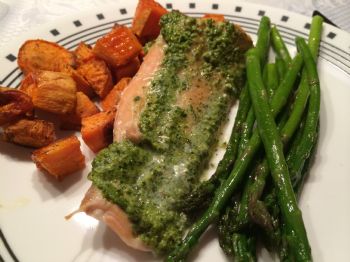 It was asparagus drizzled with a bit of olive oil + salt and pepper, yams baked with a little bit of olive oil, and baked salmon with vegan pesto. My parents got the pesto at Costco - it came as a trio with an eggplant dish (roasted eggplant and roasted tomatoes) and a sun-dried tomato pesto. Everything was vegan, not that any of us are vegan. But it was delish! I didn't have any bread, despite being offered it multiple times.
It's funny how my dad, who hates that I'm overweight, still tries to sabotage me. It's like he is trying to test me so that when I reach for a slice of bread, he can laugh at me. On the one hand he wants me skinny, but when I try to do something he tries to mess it up? I don't get it, but he's never the kind to support you from the get-go. First he'll tease and laugh at you...maybe eventually he'll offer his support. Maybe. What can I do, it is what it is and no, there is no talking to him about it. I'm just continuing to decline the temptations. I keep telling myself - be strong and prove to him that he's wrong. We'll see who's laughing when I'm at my goal weight.
Dinner tonight was over the top. I was *starving*. I haven't reached my calorie range yesterday or the day before, and I think I just needed to make up for it. The thing is, the food my parents cook is so light and healthy and when I make the same or similar, it feels heavy. I think I am far too heavy-handed with oils and butter. Way too much of it. Tonight's dinner was steak, asparagus and eggplant and I couldn't eat it all because it just tasted like oil. All of it. I should have steamed the asparagus and baked the eggplant instead of putting it in the skillet with the steak and butter. It just came out heavy and oily and didn't feel good. Solution: measure my fats for cooking!
Weight - I'm down another pound :) 188.4! I'm 23 pounds from my lifetime highest weight and almost 15 pounds from my most recent highest weight. I'm already feeling my "fat" clothes getting loose on me. I kept having to pull my pants up today. I couldn't help but smile every time I had to do that!
Fertility - tomorrow one of my coworkers is having a baby shower. I'm not going. I didn't try to explain, just told her I'd be there in spirit and she said that's fine. Besides, it's my day off and I'm not driving 70 miles each direction and spending the day acting excited every time another gift of onesies and burpies is opened. I'm taking care of me right now and that means losing weight and focusing on my own life instead of that of another. Plus, we aren't close at all, so I don't feel too bad about it. I'm losing this weight to improve my fertility and so that when the day comes that I do become a mom, I'll be a healthy one. I don't want to go through a pregnancy this overweight. Like I've always said, I want to be that pregnant chick who does yoga and runs! I got on to facebook today for the first time in a bit and immediately, a pregnancy announcement. I shut it down straight away. I thought about going back and offering my congrats, but I didn't. Ok, Eddy, stop caring about what other people are doing. This isn't a race. Instead, I daydreamed about how it will feel when I'm walking around carrying a little secret in me. I already know what the name will be: Shai (rhymes with Chai). It means "gift" in Hebrew and it'll work for a boy or a girl. One day.
The plan - I have some charts to catch up with tomorrow and I need to give Shandi her cancer treatment. I'm going to make a bunch of food for Zvika to take to work. I need to take better care of my wonderful husband. He works so hard and rarely has time to come home for a home-cooked meal. I don't want him eating gas station food anymore. Otherwise, I'll clean tomorrow. I have an episode of The Walking Dead to catch up with plus tomorrow's episode. Then there is Downton Abbey and Girls :) Fun night!
Alright. It is seriously time for bed. Overall, it's been a great few days. Let's keep it up, folks!