For the LOVE of the trail!
Saturday, February 15, 2014
I had the wonderfully awesome experience of snow shoeing with a friend to one of our favorite places on earth! What a Valentine's Day! This was the hardest thing that either of us have ever physically done. It was a 9 mile/8 hour snow shoe trip that normally takes us 3.5-4 hours to hike on dry ground. The snow was anywhere from 18" deep to 3 foot drifts! Many times we were begging for mercy!
Yes, we brought this on ourselves but it was worth it. We were just praying that we could get off the mountain without being rescued. It was extremely hard work and we began fantasizing about spending the night under a rock. It took us much longer then expected and it was dark when we finished.
We were prepared, we know this territory with our eyes closed. We had plenty of food and water and we were plenty warm. We had definite moments of "Sitting home on the couch shoving food in the pie hole would be better then this!" or "God, please don't let me show up on 69 news being rescued from the Pinnacle" or "I just can't take another step" or "Mark , I am never going to speak to you again!" or "You must keep moving or sleep in the snow tonight". It was brutal but it was so worth it.
Another challenge in the books. This really was the hardest thing I have ever done. Half-marathon, piece of cake compared to this. The mental and physical determination to get to the top and then back to the car was exceptional. Who would've known?
I am registering for a 18.12 mile challenge and I was worried about doing it. After yesterday, I say "phaaahhh, I can handle that".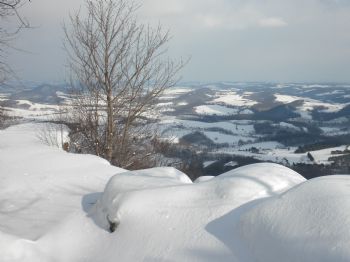 After all is said and done, it doesn't seem so bad. But yesterday in the deep snow it was the toughest! Oh, how far I have come.