Friday, February 14, 2014
I am coming up on Week 18 and I am currently maintaining my 40-lb weight loss, my next step being to work towards 50 pounds. My most current progress picture: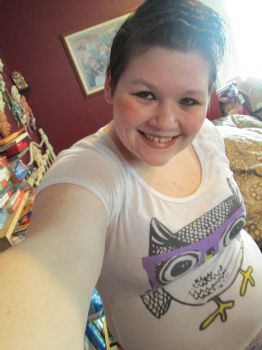 I had to pick up a pair of smaller jeans on super clearance at Shopko yesterday because the ones that I'd bought to revamp my wardrobe are getting pretty loose on me--and for morale's sake. I find that during these weeks where I maintain my weight after losing five pounds or so, it keeps me in good spirits if I get a new piece of clothing or some kind of non-food reward for myself. I also found a brand new elliptical on Amazon for under $100 that I am going to be getting next month so I am really looking forward to that!
Yesterday I saw my psychiatrist and he said that he thinks I am doing really well and he is proud of me. He kept all my meds the same, except just to change my Wellbutrin to 24-hour Wellbutrin, which is pretty neat. So I am happy.
For Valentine's Day I will be with my Pom. He and I will enjoy the holiday just as much as anyone who has dates! I have several men chasing after me right now but I've been blowing them off because I'm not really interested in having a boyfriend right now.
Things are going at a pretty even keel right now. I've gotten in my 500-minutes so far for exercise this month and now working towards 1,000 and would love to reach 1,500 this month and that is definitely my goal next month once I have the elliptical. Not really much else going on right now, so this is a short one. Hope everyone enjoys their Valentine's Day and that the chocolates aren't too much of a temptation!