Friday, February 14, 2014
it's another snowy day and i could be complaing about that rodent and his prediction of 6 more weeks of winter, but i look at it...another day of shoveling snow, sweeping snow, trudging through the snow equals exercise of may types. there is also a plus to the snow more than one way. extra exercise, enjoying the wild life that comes in to eat, but fore them to come in a person must trudge through the snow to feed them.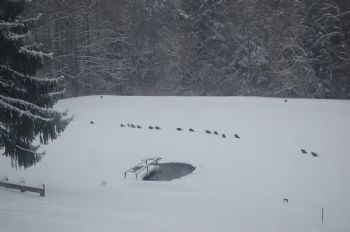 turkeys were in this moning to eat and leave via the frozen pond.