I am so thankful to have love in my life in so many forms...my loving husband, my pets, my family, my various friends (local, far away and online!). My dogs, Mocha and Cocoa, have been so cute sporting their Valentine's sweaters around the house all week! We wish everybody on Spark People a Happy Valentine's Day today!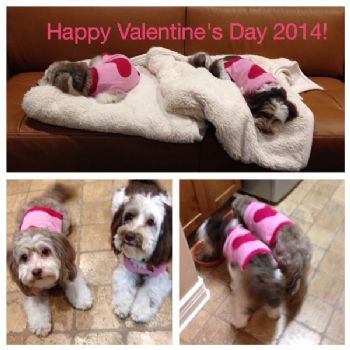 I surprised my husband with a special Valentine's dinner last night because tonight we are going to our friends' house. I went all out with roses, champagne, vanilla candle, chocolate covered strawberries, heart shaped napkins, Botecelli music in the background, an Italian sausage omelet and a sourdough baguette. Our evening was AWESOME! The champagne and chocolate strawberry were just the right amount of splurge....no bread for me!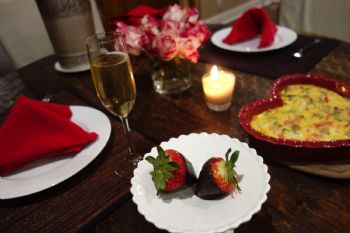 After dinner I gave my husband the perfect gifts...his favorite dark chocolate and almonds, some chocolate cherry coffee beans and best of all...this slightly chipped "Dog Dad" mug. I have the same mug at our beach cottage, but it says "Dog Mom" and it is also slightly chipped. Awwwwww. We love our little family! I can't wait to get our two mugs together.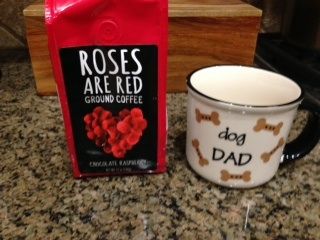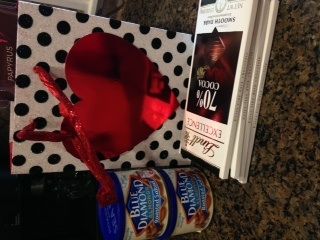 I also have to share my husband's super cute Valentine's cards from the dogs!
My husband had bought me a tea kettle and a watch this month, so I told him he was covered for Valentine's Day. However, he got me the most beautiful card last night plus he is taking us out to lunch Saturday and also booked us 90 minute massages afterward! I am so spoiled!
I also had fun plans with my University Women Scholarship Fundraising Group today! It was the organization's Centennial Valentine's Luncheon and there were over 250 of us. We dressed up in a decade of our choice, enjoyed a fashion display through the decades, had a delicious lunch including a salad from the campus garden, the tables were decorated with amazing red roses, a men's barber quartet sung "Won't You Call Me Sweetheart", a welcome speech was given by the University Chancellor thanking us for supporting University scholarships and the keynote speaker was California Senator Lois Wolk! Again, I indulged in a glass of champagne and a special chocolate dessert! I will try to stay within the rest of calorie range tonight...eek!
We've been watching this whole series of Homeland with our friends and taking turns making dinner. Tonight I'm making us grilled turkey burgers, homemade baked potato fries and a salad. I also made more chocolate covered strawberries to celebrate Valentine's Day with them! I think I had better figure my calorie budget for tonight...right now! Starting with no hamburger bun!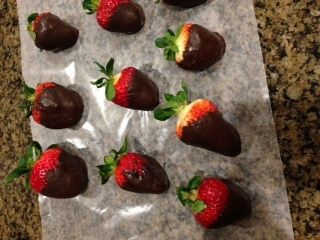 Peace, love and joy is what it's all about. I hope you are having a great Valentine's Day!