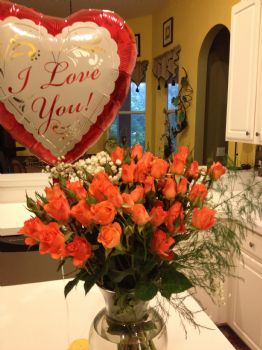 Happy Valentine's Day my wonderful sweetheart sparkies~!

I get today 'off' from the consignment gallery so that I can shop for a special Valentine's meal that complies with my Fast Metabolism Diet plan. We usually brave the masses of people that go out to eat for Valentine's Day...but not this year. It's romance and candlelight at home!

Sounds...SUPER yummy!

Dairy Free Caesar Salad
Cacao-Dusted Strawberries with Coconut Whipped Cream
Twice Baked Sweet Potatoes
Sirloin Steak with Balsamic Caramelized Onions
You can get these recipies off of Haylie's Fast Metabolism Diet Blog.
YUM!

Who says you have to be deprived and starving eating celery sticks on a diet?
Not Haylie Pomroy the brilliant nutritionist that devised this remarkable plan to jump start your metabolism and let your body finally understand that you are not going to continue to starve it or stuff it with junk foods any more.
Then it can begin to trust you again and start to release those nasty old fat stores that have been hanging on for WAYYY too long.

It's an EVER slow process...I must tell you! BUT I can see that it IS working for me and that's all I can ask. After all...it took me YEARS to pack this fluffy fluff on so I can't expect it to vacate residency overnight.

Although...in this modern "I want it and I want it NOW" era we all live in...it's a rough go to develop this patience gene at this stage in my life.
I'm DOING it though...and I'm so darn proud of my ever shrinking britches I can't even tell you how much!

The reason I'm successful and you can be too..is because you like I, will never be bored with the same ole' same ole~

You know how some diets are...you just can't FACE another carrot stick!
I will tell you it DOES take some organization...certainly NOT my strong suit..but I'm living proof if I can do it working 6 days a week 10-12 hour days SO CAN YOU!

AND...look at that menu for tonight...does that sound like sacrifice? No sir re' sir! Tonights meal sounds like a huge cheat splurge!



but...it's NOT!


I'm in Phase 3 right now...actually my ALL time favorite stage and I get 3 days of this...perfect for over the weekend. This stage is 3 days of high healthy fat, moderate carbs, and moderate protein- low glycemic fruit stage.
See how smart our girl Haylie is...she KNOWS life happens on the weekends. Well at least for MOST it does...I only get Sunday off right now so I truly have NO life...but that will change in late April or May when season screeches to a deafening HALT!

That's the Florida life for you...at least in the retail biz. Truly gives new meaning to the phrase 'feast or famine'.
Once the snowbirds fly home...it's deads~ville.. cook oven heat... USA.

I keep wondering if we are REALLY making any money or just making money to make the landlord fat and happy over the summer months.

BUT we need to work...and at least this biz is mostly a fun type of work...HARD...no doubt...but fun. That's my take on things...my hubs might not be quite as enthused...after all what does he care about furniture and design? Not much I can tell you truthfully. But he is a good sport and goes along with the program...lucky me!


So I'm off today to shop and cook and look for something reasonably cute and flirty to wear tonight. We might even catch a movie. I made it through a GREAT one called 'Monuments Men' with the dreamy George Clooney last week WITHOUT my beloved popcorn. I found out I was almost...not completely...but almost- as happy with my celery sticks and almond butter.
It's Valentine's Day my sparkies~as my all time favorite mentor M. Beck says "Love is the only REAL magic!" Go make some!