Happy Valentine's Day!
Starting weight=137
Last week=131.5
This week= 130.5
High fives:
-Lost 1 pound this week. Yay!
-Ate within my calorie range all week.
-I had to exercise lighter this week because of a painful knee. I was proud that I still managed to find ways I could do exercise while injured.
2x Zumba (60 minutes each)
4x Walk (45-80 minutes each)
1x yoga (60 minutes each)
2x dumbbell reps
- After 3 weeks, I think I am already making a little progress toward minimizing my bat wings.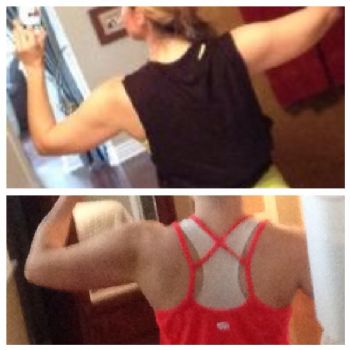 Challenges :
-I injured my knee from doing weighted squats in HIT classes last week.
-My hamstrings have been sore, but mostly my knee hurts when going up stairs, sitting down or going in and out of the car.
-I haven't slept well because I keep waking up with my knee locked in pain at night and had difficulty rotating my position in bed several times a night.
-I had one very bad day where I felt weak and sore all day and ended up with a migraine in the evening.
Improvement Notes :
-To prevent injury, I am going to do pilates or yoga or light weights instead of HIT weight classes for strength training until I am much stronger.
- I realize over exercising, lack of sleep and skipping coffee and tea attributed to my weakness and migraine this week. I learned what not to do from this experience!