Had another of those anxiety situations where it comes totally impossible for me to do things I have to do - in this case to pay bills....
They were due the last of january and the reminders have started to drop in... and I keep postponing it "IŽll do it tonight..." "IŽll do it first thing in the morning... " "IŽll do it the minute I come home from work..." this has been going on for about fourteen days, incredible! AND painful!
An hour ago: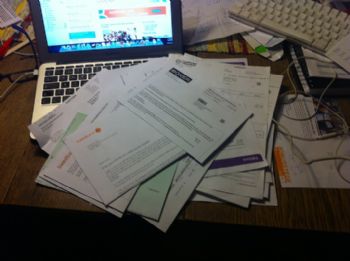 ten minutes ago...
so it is done, and the relief is instant. As the feeling of energy, it is so obvious that all these postponings I dwell in binds a lot of energy and make me feel bad.
There has been very little exercise this week – it might be that I set the goal of 2000 minutes, it seems as if I fix goals like that, I immedeately start to sabotage them to myself.
A tough thing I did this week was to confront a friend who has acted a little hostile towards me for a couple of months... no big things, just little remarks that made me unsure, were they only jokes or was there something behind it? Finally I spoke up and asked her if something was going on? SHe denied it and said I was overreacting and too snsitive, but as I insisted she after a while said that it might have been last midsummer that influenced her.
And reminded me that I left a company of friends last midsummer rather abruptly without explaining afterwards or talking about it... I had forgotten but remembered that it was awkvard, I was uncomfortable and not feeling good about leaving - mostly because I was so bored by the company, they were drinking and I am not. And in my book it is not allowed to feel that others bore you, especially not dear friends. And the awkwardness made me act a little clumpsy and not being as smooth as I normally am in situations like that
The good thing was that I learned that my "stomach feeling" was right - I did sense something was wrong and I kept insisting on that feeling in spite of her denial - and I was right! If I want to become steady in my recovery from COE, this is something I have to learn, to take care of my "stomach feeling" and act on it or not, just to learn to believe in it, that when the alarm goes off something needs to be taken care of.
But the cost was pain. Going home afterwards (and we talked it out and there were no harm between us) I was feeling total panic, nobody would ever like me anymore, I was going to be abandoned and lonley and starving to death since nobody would help me if I got in trouble,,,very primitive and obviously childhood stuff coming to life.
But 24 hours later I was fine and some energy was released. But I keep on struggling with anxiety, it is probably because I donŽt work full time and I donŽt sell the spare time I got, I am totally paralysed and waiting for disaster to struck...
The good thing is that my business edition is very well planned and I have not postponed that much, if this continues I will have a dealine week were everything is ready to edit... miraculous!
Other good things - my "dog lady" messed yesterday and told me that she will be released from the mental hospital next week, another big stone falling from my chest because it has been really hard to work and take care of doggy in a proper manner. This weekend I was supposed to go on a course but I cancelled, could not get anybody to take care of doggy. It is a very fragile situation, I have no idea if my dog ladys recovery will continue but for the moment I will rejoice in the fact that a solution seems to come and that part of my stress will go away.
Today I will contact authorities to see how it works with pension - it is possible to get part of it from the age of 61 and I should probably ease my stress by adding some of that to my reduced wage... afraid that it will hurt me in the long run as it means that I will get less when I get to the "real" retire age...
Another denial that has to be revealed - I have gained eight of my 16 lost kilos back since the beginning of december, time to wake up and smell the roses...