Thursday, February 13, 2014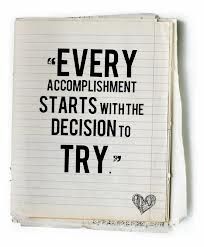 I started off with motivation today to get in over an hour of a workout and have plenty of "me" time after I was done with my 2 year old teacher visit. Which went extremely well by the way. Elizabeth had a blast, counting her heart candies and making a heart collage with glitter and precut hearts. Alas the ease of keeping a young one busy, to bad the older ones still aren't that easy. Anyways, as the afternoon wore on, I found myself sleepy. I ended up taking a 10 minute cat nap then watching a movie with the kids. And hubby brought me home some healthy subway, and then I thought I would bring out my big ole treadmill. And I surprised myself. I ran for 1 minute, then 2 minute walk over and over through 15 minutes. And when I wanted to stop, since I had my headphones on to my favorite music, I made myself continue to the end of the next song. Hoping I can make it to 20 minutes next time. I want to work up to being able to run/jog a 5k by this fall. That would really be awesome. Going to save my strength training for tomorrow. Can't wait to go out to lunch with my husband. A much needed time together. Only bad thing is, before and after we have a bunch of errands but that's okay. We will be spending time together.
I hope everyone has a fantastic Valentine's Day. And even if you don't think you have someone special, you are special to us and everyone else around you.