Good morning, all of my sweet Spark Friends! The sunshine has finally come back into my life (both metaphorically and literally)! After many weeks of being in a deep depression, the cloud has finally lifted and the sun is shining through. My husband kept telling me that just because I couldn't see the sun, it didn't mean that it wasn't there. He was trying to help me hang on to hope, and of course, he was right. Thank you to all of you who kept checking on me and praying for me, even when I wasn't able to check in with all of you! You are the best!!!
The good news is that while I was depressed I lost about 12 pounds because I was not able to eat. The bad news is that, now that I feel better, the appetite has returned and I want to eat everything in sight, so I have gained 10 of that back already! Now, if I could just find some balance... Oh well, I know that it will come. I am just so glad to be feeling better again!
In other news, I was contacted by Spark People, to be one of their Spark People Success Stories! The first time, was when I was in the middle of my depression and I couldn't even think about it. Now, they have contacted me again and I am still not sure. If they had contacted me a few months ago when I was blowin' and goin' full force, I wouldn't have given it a second thought. But now, I have been stuck for so long, that I really don't feel like much of a success. I have not given up though, so I guess that in itself counts for something. I have maintained most of my 70 pound loss, although I fluctuate up and down about 10 pounds. You have all been so very encouraging in all of your comments and suggestions about it, but something is still holding me back. Am I afraid it will somehow jinx me and I'll gain it all back and make a fool of myself? I don't know. Maybe it would do just the opposite and motivate me to keep moving toward my goal? I know I don't want to go back! I'll just have to think on it some more.
This is totally off the subject, but I just finished another project that I wanted to share with you! My DD1 loves t-shirts and has more than she knows what to do with, so since I started quilting, I thought it would be really cool to make a t-shirt quilt for her so she could have them on display and not just stuffed in a drawer somewhere. I finished yesterday and it turned out better than I hoped. She loves it and has already been sleeping with it for the last 2 nights (she actually slept with it before I finished it!). It is not what I would call beautiful, but for my sentimental 21 year old daughter, it is perfect!
Here is the front:
A lot of the t-shirts had writing on the back that she wanted to keep, so I used the back of the tshirts for the back of the quilt. That's why there are just randomly spaced wording on the back side: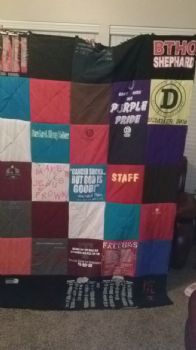 She posted the picture on facebook and I have already been contacted to see if I would be willing to make some for others. It might be a great way to support my new sewing habit (material is expensive!) Oh, by the way, this quilt only cost me $8 to make (the cost of the thread)! Since I used the back of the tshirts for the back of the quilt I didn't have to buy any additional material. I also used some leftover flannel that I had for the batting, so it worked out perfect! Gotta love a good deal!!!
Well, back to work for me! I will try to start checking in with you more often, and hopefully can get back on track again! You mean more to me than I could ever express! I really do love you guys!

Dachelle