Hi expectations! That's what I have had, all week as the Nor'Easter, was expecting to bring the biggest snowfall, of the year! Oh boy!!

I love snow and making snow angels, sledding, building snowmen, throwing snowballs, making snow cream, to name a few. Oh, and let's not forget, catching snowflakes on the tongue!

Imagine the disappointment when I heard rain, at 1 am. flattening what snow we had gotten into a slushy mess.

So, ever the one to make the best of things, I headed out in my PJs and did a couple things on the side porch.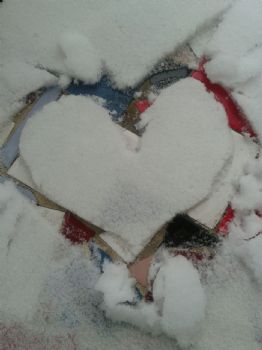 It is Valentine's week, so first off, a heart to share with my Spark friends.
Here is a mini snowman. See? He is doing arm rotations. His Valentine chair is waiting until the workout is over.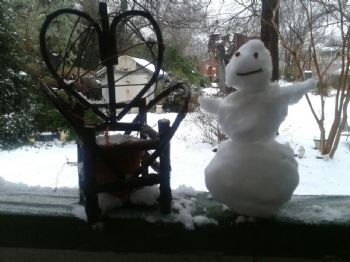 I tossed a few snowballs out to the angel, in the back yard.
As some of you know, my car needs a new engine.

so the shop gave me a Lexus to drive around until I get my car back.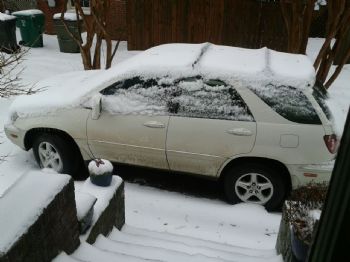 This is a pretty nice view from the porch.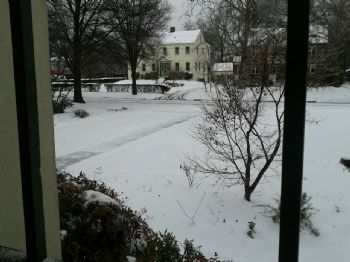 Now to the front steps. Last night the snow was covering so much more, but as you can see, it is gray slush, this morning.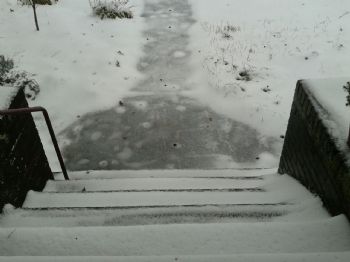 On the bright side, my neighbor brought me these beautiful Tulips, as a pre Spring surprise!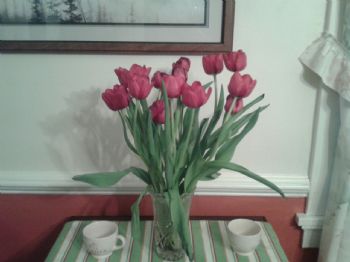 I may love snow, but Tulips are my favorite flower. Perfect for Valentine's day, too.
Ever the optimist, I will look forward to the chance of bit more snow,, tonight!
The weather people can be wrong in both directions, so I may be looking at a foot on Friday!
For those of you, tired of snow, I wish you all sunshine, but for me, bring it on!
I will be heading in the yard and attempting more snow fun, then coming in for hot cocoa.
I will leave you with a snowman from another time.