Everyone can be hit with the winter blues...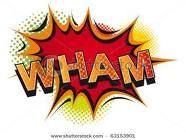 I seems to do ok with it but some good Spark friend are being hit.
Sooooo I thought I would come up with some selfish positives.

I am home with my pups. Can't get much better than that.

I do not have to rush to work so have more time to get on the treadmill.

Winter leads to more clothes. My weight is up and more clothes is a good thing.

More time to think about how I really should be spending my time.

Taking time to find some more crock pot recipes.

Reading and paying attention to the Hungry Girl e-mails...
Hungry Girl's Chocolate-Banana Bread Pudding
1/2 of recipe (1 mug): 239 calories, 4g fat, 350mg sodium, 46g carbs, 8.5g fiber, 18.5g sugars, 11g protein -- PointsPlus® value 6*
This dessert for two is one of our best bread puddings yet! Super simple, yet SO satisfying.
Prep: 10 minutes
Cook: 5 minutes
Ingredients:
4 slices light bread

1/2 cup mashed banana
1/4 cup light vanilla soymilk
1/4 cup fat-free liquid egg substitute (like Egg Beaters Original)
2 tsp. unsweetened cocoa powder
Dash salt
1 tbsp. mini semi-sweet chocolate chips
1/2 cup sliced banana
Optional topping: Fat Free Reddi-wip

Directions:
Lightly toast bread. Let cool slightly, and tear into bite-sized pieces.
In a medium-large bowl, combine mashed banana, soymilk, egg substitute, cocoa powder, and salt. Mix thoroughly. Add bread pieces and 1 tsp. chocolate chips, and gently stir to coat.
Spray 2 microwave-safe mugs with nonstick spray. Divide mixture between the mugs.
Place both mugs in the microwave and cook for 3 minutes, or until set.
Top mugs with sliced banana and remaining 2 tsp. mini chocolate chips (1 tsp. per mug).

I may have to try this.

Another recipe I found yesterday.
Crock Pot Apples & Sweet Potatoes
2 large sweet potatoes, peeled and diced
4 medium apples, peeled and diced
1 tsp. Penzey's Apple Pie spice (or 1 total tsp. cinnamon & nutmeg)
2 tbs. melted butter or coconut oil
2 tbs. palm or brown sugar
1/4 cup maple syrup
salt & pepper
large handful raw walnuts or pecans
Place sweet potatoes and apples in crock pot. Top with all other ingredients except for nuts, stirring to thoroughly combine. Heat on low for 5 hours, adding nuts during last half hour. Taste for seasoning.

and Crock Pot Banana Bread Quinoa
Yields about 6 1/2 cup servings.
Ingredients:
1 cup of quinoa (I used Bob's Red Mill)
1/2 cup of Seasonal Coffee-mate Warm Cinnamon Sugar Cookie *
1/2 cup low-fat milk
1 cup water
1 1/2 banana (past ripe)
2 tablespoons chopped walnuts
3 tablespoons brown sugar
1 1/2 tablespoons butter, melted
1/2 teaspoon vanilla extract
*NOTE! If you can't find that kind of creamer or you'd prefer to use something else, substitute light cream and add about 1 – 1/2 tablespoons cinnamon.
Directions:
- Mash the banana in a bowl and set aside. In another bowl, mix the brown sugar and walnuts together.
- Pour quinoa, creamer (or light cream), milk, water, butter and vanilla into the crock pot. Add the mashed banana and stir to evenly distribute. Sprinkle the sugar and walnut mixture into the quinoa and stir to mix.
- Cook on low for 4 – 6 hours, or until the quinoa is fully cooked. If you need to, add additional liquid or sugar to the mixture for taste.
- Serve warm and garish with slices of banana!
Nutritional information per serving:
Calories: 260
Fat: 7 grams
Carbohydrates: 38 grams
Fiber: 2.5 grams
Protein: 5.5 grams
Weight Watchers Points: 6
Ok now picture time.
This is a picture from the weekend. My DH mowed around these trees. We planted these trees a long while back. Sweet.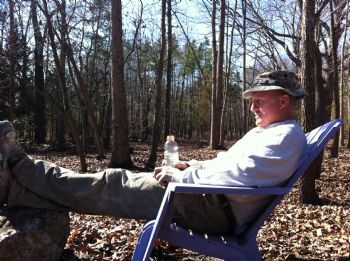 My DH after a some hard work :)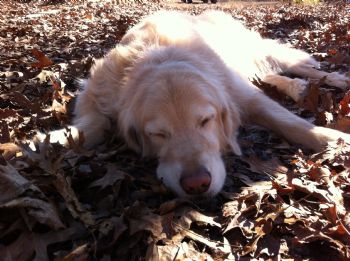 Sierra at the acreage.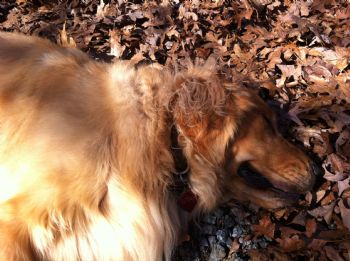 Utah was tired to say the least.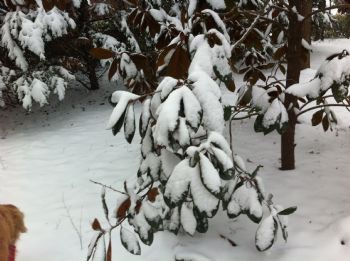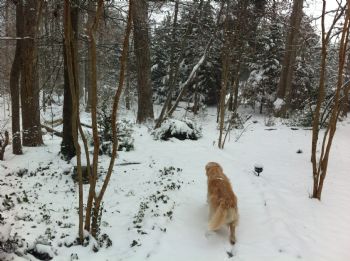 More snow after this. There has been a lot ... for South Carolina.


Make the most of your day!


One more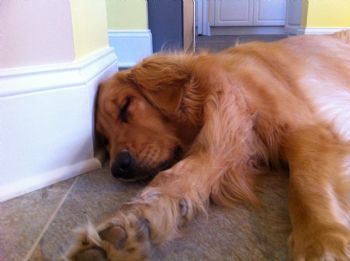 One negative - the SP friend feed change