So I know I promised to update my blog every day but I went away for a long weekend to visit my family and I just didn't want to spend time sitting in front of a computer screen when I could spend time with my family.
But now that I'm back home I'm going to be updating my blog regularly again. I've been doing well: this weekend, I ate healthy and a lot less than I've eaten for the past few weeks. We went for a couple of long walks with my mom and my sister and it was really nice :) I didn't track my meals on the weekend (I didn't make any of the meals I ate so I had no way of tracking them accurately) but I made sure I kept my portions small and stopped eating when I was full.
Yesterday, however, I tracked my calories for the first time in a long time. I ended up consuming about 1,600 calories and it felt like a good amount. I wasn't hungry and I didn't get any crazy cravings like I sometimes get if I eat very little. Today I've been tracking what I've eaten so far and I still have room for a delicious dinner. I'm making vegetable soup! It's my favorite soup recipe: very yummy, delicious and low-cal.
Whenever you find yourself in need of a restart, it's so tempting to try something very drastic to get back on track. I always get this urge to cut my calories way back and exercise like crazy to start losing weight again. These days, I'm smart enough to resist this urge (at least most of the time) because I know it'll only backfire. I can never keep up such a strict diet/workout regimen.
The best way for me to do this is just to track what I eat (most of the time) and make sure I eat enough (around 1,400-1,600 calories seems to be a good number for me) and not to deny myself anything. Everything in moderation! That's how I lost the first 30 pounds. I tracked my meals, ate healthy most of the time, practiced moderation and worked out at least 5 times a week. It's as simple as that, but somehow I still find myself looking for that shortcut or that magic trick that will suddenly make me thin.
To keep myself focused and to remind myself that the slow way to lose weight is the best way, I'm going to write down the lessons I've learned over the past couple of years, print them and hang them where I can see them everyday. I might even write a blog about it!
I hope your day is going well :) Let's make it count!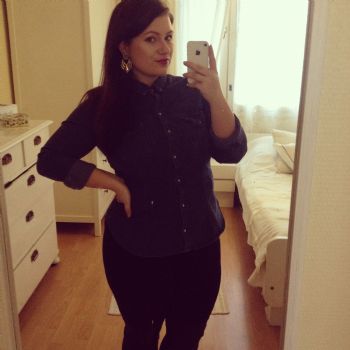 (Those are a pictures I took last week to make myself feel better about my body. I think selfies are a great way to improve your self-esteem! :) )