I had a great swim yesterday at Wekiwa Springs State Park. They have a natural spring which is (according to my Timex GPS watch) about 100 yards across, the way I swim it.
I felt pretty good, so I decided to just swim slowly and do a non-stop swim. I usually stand up and rest for a few seconds, maybe after 200 or 400 yards. Today I'd count this a a long slow swim. I ended up doing about 1400 yards steady swimming after a short warm up swimming to my 'start' point.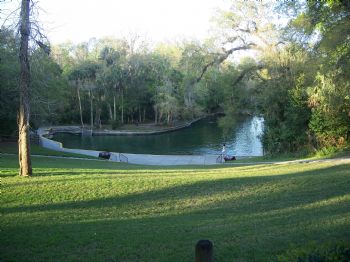 Considering I am supposedly in recovery mode from a marathon this past Sunday, I felt great! I stopped before I got tired and swam to the exit, a set of stairs where sometimes people congregate. There was an older (retired age) couple there and a younger guy, whom I later learned was 45 y.o.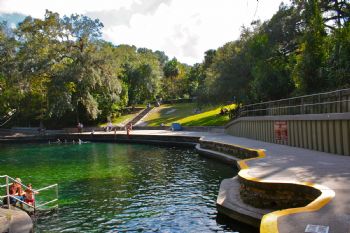 The lady, sporting a huge grin, asked me how far I had swum. I told her it was about 1400 yards or so. She and hubby said they had been 'watching me swim, and felt guilty that they were out there wading a while ago, while I was working so hard'. What went unspoken was the 'for an old guy' part. I proudly informed them that I was 67 years old and training for a half ironman competition (few people know what a 70.3 is). Part of my comment was bragging and part of it is my knowing how enthusiastic people get when they hear about senior citizens doing something out of the ordinary.
The younger guy chimed in, telling us his age and that he had done a few half marathons in the past, and seeing me and hearing my story had inspired him to maybe try again. I encouraged him to do so.
So, simply by getting out there and swimming, I had met 3 very nice people and encouraged at least one of them to resume a pursuit of a more healthy lifestyle. Who knows when one can inspire others? Maybe someone sees you running, cycling or swimming and silently decides that they can do that, too?
That's just another benefit I received from being out there training, and having fun!
Thanks for reading and have a great day.