Canít believe I havenít blogged in two weeks! Work has kept me busy and so has this guy. Meet Bubba, our new SparkDog! Bubba is an almost-three-year old, 55 lb., English Bulldog. Heís our second bully. When we were first married, we had an English bulldog named Phyllis. She was a sweetheart and even helped teach our son to walk. He would pull up on her hindquarters and toddle around. Randy is particularly fond of this breed. I think because they look like him! Check it outóBubba is my husband in dog-form. lol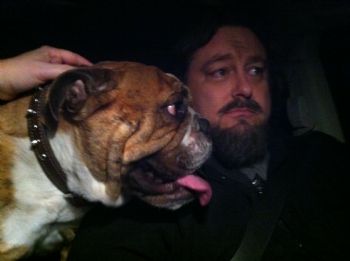 Heís crazy about this dog.
After Gunner, we decided no more dogs. We figured the kids were older; we didnít want to tie ourselves down again and we didnít want to eventually go through another doggy loss. But after several months, it was apparent that the kids really missed having a dog. Dogs are kinda like medicine for the soul and our house hasnít been dogless for years. So, Randy started looking, found Bubba online and was a goner. We ended up driving two hours, to ďrescueĒ him from a shelter. Heís never been neglected or anything. His first family just couldnít keep him, because of allergies. We were lucky enough to be the first people to snatch him up.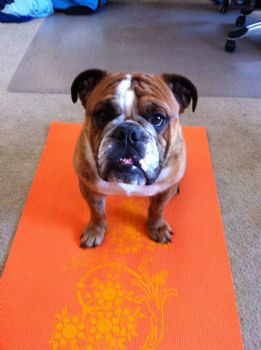 Bubba does yoga.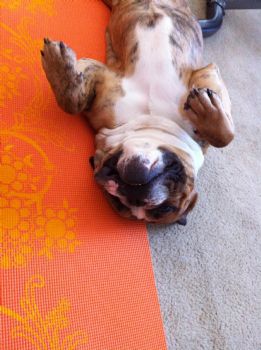 He has mastered the Corpse Pose.
Iím excited because, for the first time ever, I have a dog I can walk on a leash. I want to take him through a basic training class, but heís already pretty manageable on a walk. Being a bulldog, I know he wonít be able to take super long walks, or be out in the heat much. But this guy really likes to get outside and GO. So I have a new exercise buddy!! And holy cow, I have to get some footage of this guy running and jumping. Itís impressive, for something that short. At any rate, itís nice to have a walking buddy, even if he snorts and snuffs a little. Heís the only one in the house whoís as happy to go outside as I am!
Bubba on the go
So, meet Bubba. Iím sure youíll be seeing a lot of him in the future. He seems to like the camera, so weíll see if heís as big a photobomber as Gunner was. Iíve introduced him to hula hoops and he seems okay with those. But heís terrified of the ukulele! Baby steps, people, baby steps.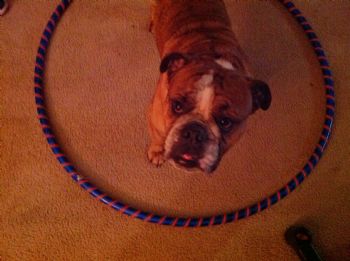 hOOpdog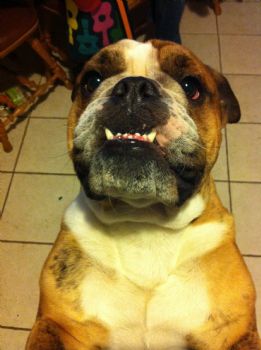 Bubba says, "Spark ON, Brave Sparkers!"