Monday, February 10, 2014
I have completed my quest of making a fully vegetarian southern style gumbo. The people around me have almost taken offense to me attempting this. As if I spit on them or something. Oh well, not like I care what other people think of me or my lifestyle. It took me quite a while to find this recipe online and it's a mix of them now.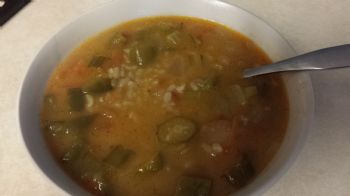 Ingredients
7 cups okra (I used frozen)
1 cup flour
3/4 cups vegetable oil
1 onion
3 tomatoes
4 celery stalks
10 cups water (heated, not cold)
1 tbs paprika
1 tbs salt
1/2 tsp cayenne
1 green bell pepper
10-12 shakes of Tobasco
First you want to make the rue. You combine the flour and oil and stir continuously until it turns dark. It took me like 20 minutes. I'm sure it takes less time if you use animal fat rather than oil. Stir fry the okra to get rid of slime. Then add everything together in a giant pot and cook for 45 minutes. Easy peasy. I served over brown rice.