I was rummaging through my closet for old clothes to bring to my presentation. I found this old shirt. It almost got tossed a few years ago but I kept it for some unknown reason. This shirt and my old pants are all that remain of my old life along with a few pictures.
Dont do like I did and totally clean your closet. I know you want to be rid of your past BUT... remember this... what may seem to be a reminder of yesterdays shame is actually the irreplaceable trophy of tomorrow.
Nothing punctuates your progress like old clothes. Even though I am the one who lived it, even my memory fades over time. Our minds have a way of adapting and glossing over old memories where they are not so stark anymore.
It's one thing to look at an old pic and reminisce, it's quite another to slide it on and experience it. Doing stuff like this keeps it real.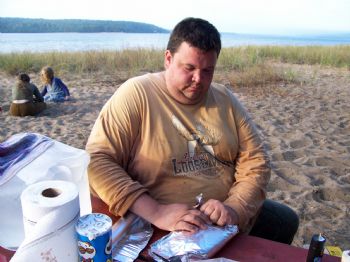 Trying it on... :)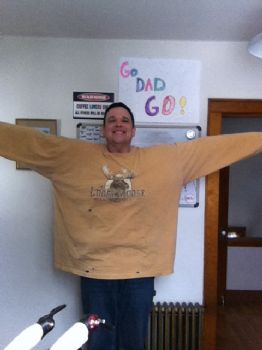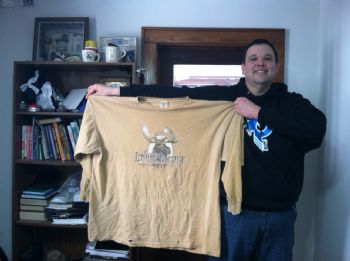 While I dont want to "wear out" my old pics here on Sparkpeople, today, I choose to celebrate. That is one thing I really haven't allowed myself to do much of. While I am a long way from the finish line, I can feel it coming together.
One of the memories from my 70.3 that really punctuates this is when I left the bike and transitioned to the run. I had just swam 1.2 miles, cycled 56 miles and was now embarking on a half marathon (13.1 miles). Even though I still had a long ways to go, my throat got tight and I began to choke with tears when I got on the run course. Enough so that I had to actually stop and get myself together again. I was choked up that I was going to actually make it even though I was just starting the half. It was sinking in that I was going to finish.
I knew what to expect, the worst was over (sort of) and I had confidence that i was going to see it through.
I was going to see my dream of finishing come true.
Today is the same feeling.
I hear finish line music....
BTW... I can't believe I spelled reminisce right the first time.. booyah!
Connect with me on Facebook-
www.facebook.com/#!/robe
rt.wadhams.7