Monday, February 10, 2014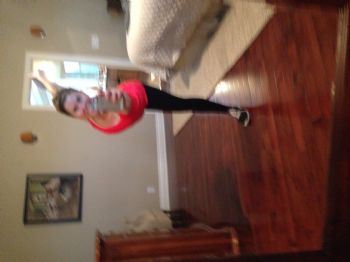 Getting ready for yoga. Just to keep my blogs exciting...I thought I'd attempt to share this pose I learned how to do when I was fifteen and happy I can still do it at 41! I just googled this pose to see if it is in fact a yoga pose....and why yes! This is Natarajasana Pose, also called King Dancer. How cool, since my name is Natasha! Yes, that's my foot above my head back there. Most incredibly, it's not easy getting your own cell photo photo in the mirror in Natarajasana pose, let me tell you! The side pose would be better if I could balance putting my hand out forward, but somebody needed to take the photo!
Namaste,
Natasha doing Natarajasana!