Monday, February 10, 2014
Just thought I will share the good news with everyone. In fact I have 2 great pieces of news. Will share my part of it first.
My Physical Therapist's senior came by to check my walking and was very happy with the progress I had made, not just walking, but even turning, sitting and getting up. Right now getting up is the biggest stumbling block, but I am sure I will conquer that too. And he passed the final verdict,"Ammamma,i think you should now use the walker and not the wheelchair any more…at least at home."

I am excited that I can walk finally, using a walker. So walked around the house, into the kitchen…. I am feeling like a little child. My Shirley was pleading with me to stop as she was getting tired…. but now I am tired.
The second piece of good news is that my DGGS Jerry got back home from Tokyo early this morning. He was at my bedside by 6:00 waiting for me to wake up. He was to be here on Friday night, but had missed his connecting flight from Singapore, so stayed on in Singapore for the weekend and came in this morning. I am so excited…. I can't stop smiling.
Here's a pic of my Great-grandson-Jerry and his pretty wife Anjali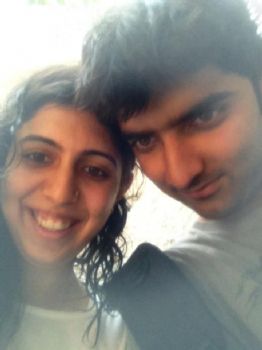 Thank you all my Spark Friends for all your support and encouragement. Now it's onto my next goal to move a bit more faster and use a cane instead of the walker…..
God Bless All of you