Hi. I'm happy and messy haired after Zumba. That scale in the bathroom is strict. I check every morning and cross my fingers I'm losing by Fridays! I know you can all relate!
I found a box elsewhere in the house that fits my tea boxes perfectly. I drink tea all the time now, especially in this cold weather. It has become a very calming ritual...me and my tea. My husband enjoys tea now too. I love having a big mug of tea after meals. My new electric (non-whistling!) kettle coupled with my box make the perfect tea center which I use all day.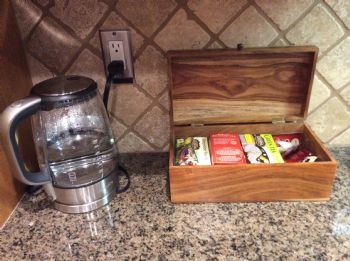 Here is what've been cooking up lately this week.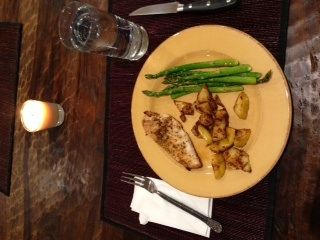 Grilled chicken breast, cinnamon apples and asparagus. I like to light a candle and play soothing music to help set the mood at dinner. It helps my husband unwind after a stressful day! I like to eat in a calm atmosphere.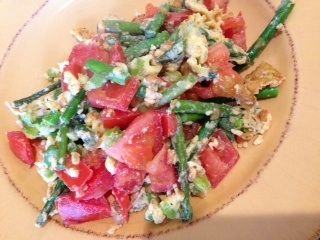 Egg scramble with leftover produce. Just one egg and mostly veggies.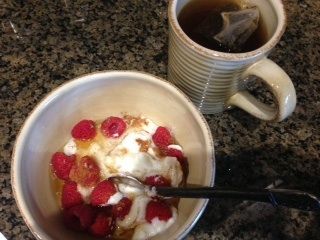 Greek yogurt, honey, peanut putter and raspberries. Post workout snack. Yum.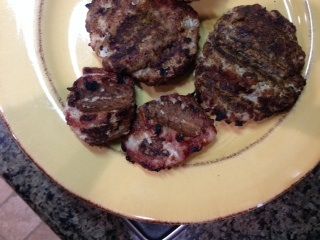 Grilled turkey burgers for my husband and I plus two little ones for our dogs:)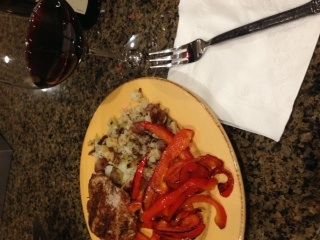 I splurged one night and had some potatoes and red wine. Usually I'm really low carb and no wine. It was all sooooo good! Plus all within calorie range!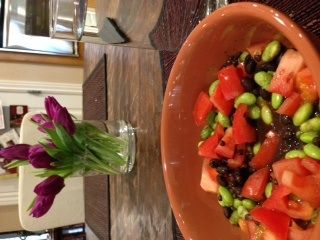 Edamame, black beans and tomato. I'm really enjoying my meal experience with fresh flowers at the table. I am going to try to keep up with rotating fresh flowers here.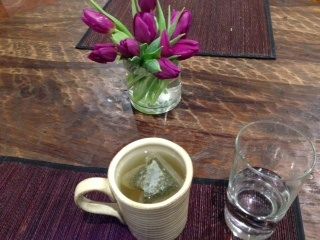 I make myself drink a tall glass of water at meals and then have a cup of tea after meals.
My knee is a tiny sore from repeated squats in my HIT class. I took one rest day and got a massage. Tomorrow I will do something low impact...pilates or yoga.
Have an awesome week!