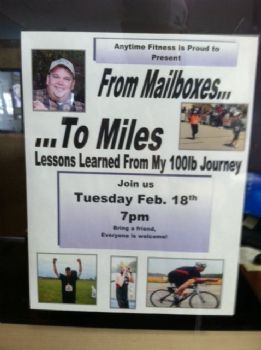 Well, it's going to finally happen. I will be giving a presentation at my local Anytime Fitness on February 18th at 7pm. I got the finishing touches done last night on my Power Point and am now working on hand outs. This is both an exciting and scary time for me because everything I have dreamed about and have been blogging about is about to come to pass.
For quite a while now, I have been compiling thoughts and trying to blog in a useful and informative way here on Sparkpeople. All of that time has really paid off because I have been able to develop a virtual warehouse of hopefully encouraging material that is now usable in a weight loss support group format.
Currently I am working on a weight management certification through ACE with the purpose of starting a support group right at the fitness center.
www.acefitness.org/fitne
ss-certifications/specialt
y-certifications/weight-ma
nagement.aspx
along with starting up a couch to 5k program. So far I am looking at 4 5k events this year for starters. Along with that, there will probably (hopefully) be enough interest generated among the existing runners at the gym that starting up a group to train for a local triathlon and half marathon is also a possibility.
All of this has had a real energizing effect on me. Couple that with the fact that my orthotics are working for me and have allowed me to run again, and you have a potent motivator to get with the program.
I have been so grateful to get back out there and run again. Never again will I take my running for granted. Even though I still have a little ways to go, my life is the best it has ever been and I am watching my dreams become reality and frankly, I've earned it. Every day I enjoy the fruits of my hard work and it is time to give back.
Although very much in the idea stage (just tossing this out there), I am considering writing a book. I have a few more milestones to reach but the framework for it has begun and will probably take a few years. For those that have been commenting that I should write, I have begun to slowly internalize the idea and have decided that it is not so far fetched after all.
Thank you for encouraging me on my journey.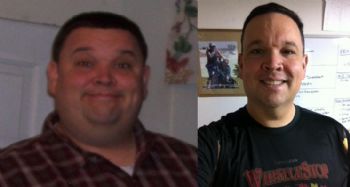 The best is yet to come.
Connect with me on Facebook-
www.facebook.com/#!/robe
rt.wadhams.7