It has been a cold winter here in Ohio as in most of the Northeast. My children love the snow and would play in it more if allowed.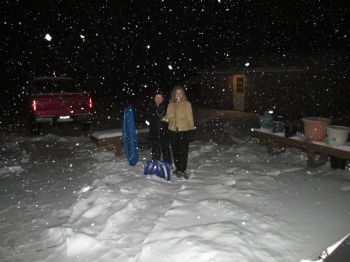 Feeling? Good.
I have been having issues with my shoulder after the surgery
and hope that no more setbacks with it as spring is near and
I am SO ready to get back to work on our cabin!
I ate good last night after receiving a very bad cholesterol scan
and wanting to get back on track and control the late night
snacking with low calorie alternatives.
I am border line diabetic and fall asleep easily when I eat sugar
in most any quantity if left alone in my lazy boy. So I am cutting
back on my sugars intake as well.(178 mg/dl non fast)
My hdl was 30 and this is due to eating poorly, but mostly
lack of exercise and being over weight. Catch 22 because
working out causes me pain now and seems more so when
the barometer is low, I need to research why or if just
coincidence..?Thus I will be using my treadmill more to
get the weight off and the good hdl up. I am also back
on my cholesterol meds ( I had forgot to take them for 2
weeks prior to the exam). My triglycerides were through
the roof at 544 not fasting and this is very bad as well thus
I will try to eat less and less fatty foods.
My snack last night was a few oyster crackers a thin slice of cheese and a small sweet potato cooked plain.
My stress level is 1 of a 0 to 10 scale. Feeling Good with only minor arthritic pain to attest for the one.

Spark People loss total pounds- 33 as of 2/9/14
Goal to lose 92 pounds.
Remaining to lose: 61/56/55/55/54/57/56/52/54/56/
53/54/52/52/50/50/55/57/57/5
9 pounds to go.
Goals :
Weight:
273 = 40 pounds down again !
263 = 50 pounds gone ! ___
262 (low in years! ___ new bike to ride on trail.
250 ___
249___
240 ___
230 ___
221 Ultimate maintain goal! ___
Life is Great and GOD is Greater for Strength , my family
,children and Amazing wife and my spark friends.
The ability to get up period !! !!

To exercise with little to no pain most days! Working on that !
eating Healthy today? I have so far!

Sit in the sun or outdoors 15 minutes minimum? Yes

Stretch your body? Yes

Yesterday? yes

Today ? Yes

Workout, walk or hike Yesterday? Yes

Cardio (10 minutes minimum) ? Yes


4) blog for motivation? Yes

5) read other blogs and posts for extra motivation ? Yes

6) weight loss-not required but nice to see- +/- +2 pounds
last few weigh ins: 278, 282,277,276,275,278,277,273,27
5,
277,274, 275.273.271,276,278
Today 280
next weigh in 2/16/2014
last weekly loss/gain checked 2/9/14 +/- +2 pounds
monthly loss/gain 1/9/14 to 2/9/14 +/- +2 pounds
Did I get 7 hours of sleep last night? 10

sinus issues had me toss and turn so I slept in a bit.

for reading my blog !