Get a grip!
Sunday, February 09, 2014
I started writing a blog earlier this week but I figured no one wanted to hear how depressed I was about being cooped up in the house. But here I am still working on getting my grip on reality. I finally weighed myself this morning....169.4. Almost 15 lbs up from my summer weight when my body likes going down to 155 all by it's self from walking and biking and eating good. I am still dancing and lifting and I went to one water class this week. TOM just ended. I gave into every little thing it asked me. Pint of ice cream please? Sure why not. Half gallon of ice cream please? you got it! Last week I was going on a 3rd ice cream search in a week. Looking looking looking around, what do I want, what do I want? Then the song "run away, run away, run away if you wanna survive" popped into my head and I got the hell out of that isle. I bought a normal size bag of M&M's instead. There is no end in sight for winter. I can't blaim my eating on it and let that be an excuse. You aren't always given the best things in life. But you gotta make due with what you got and do what u can do.
Week 47 of bread, Raisin Walnut Bread. No more sweet breads for me for awhile! I took 1 loaf to my work training and it was gobbled up pretty fast.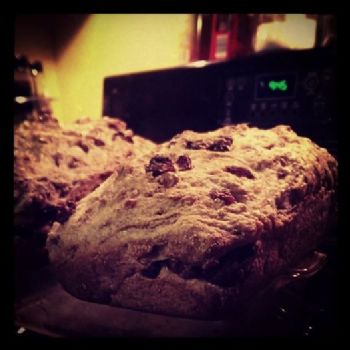 I posted this pic on facebook yesterday because Scott and I celebrated 10 yrs since our first dating anniversary. I weighed 198 when I met him. Let's not talk about how much weight I gained and lost between these two photos. +85 -120 +18 -15........and so on lol