Saturday, February 08, 2014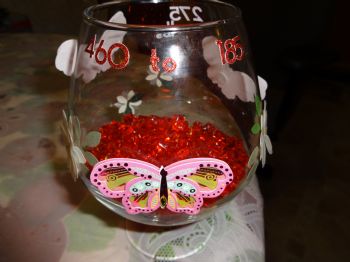 This is my motivation jar that I made. The idea is to decorate a glass or jar and then put an aquarium rock, marble or pretty object in it for every pound you lose. Count out how ever many pounds you want to lose and have that many objects set aside for the task. Have those set aside in a separate dish and watch your progress as you move the items. It's a great technique for visualization.
The butterflies symbolize change. The flowers remind me to take my time and stop to smell the flowers along the way. The 460 to 185 is my beginning and goal weight. The 275 you see on the back is the total amount of pounds I want to have lost.
Idea courtesy of Roanna9