So I might be a fan of ye olde treadmill. What's not to love about being in an air conditioned room with a fan blowing air, watching tv and getting your minutes in? Or, skip the tv and read a book. Well, it's kind of gotten a little boring.
Once upon a time, back in high school, they did that cliche career placement quizzes/surveys/etc. Ours was supposed to assess our interests as well as strengths and give us a direction on options for careers. Well, mine was really useful. It taught me a lot about myself. My official results?
--You can be good at anything, just don't be a forest ranger.
I kid you not. "You wouldn't make a good forest ranger." That's the ONLY feedback it gave me. Well, that might be because I'm nervous about and do not enjoy a lot of aspects of outside. I burn easily. I'm allergic to half the plants in the world. I'm allergic to bees, so I'm always worried about them and watching out for them. I'm terrified of snakes. This all boils down to... maybe indoors is a good option.
But, putting aside all of those negatives, sometimes it's nice to get out and enjoy outside. It makes you feel good, ya know?
So anyway, since moving to southern California, I've discovered one of the best perks of the area. Within a couple miles of me, there are SO MANY parks and trails available. One is within walking distance of our home, but it is a very strenuous hike that I'm not ready for. I did find one that's a couple miles away, though, that has several options... and I decided it was time to explore this afternoon.
I drove out with my hiking bag packed with essentials: water, inhaler, benadryl for any bites/stings/etc, phone, headphones... got to the trailhead where I parked. Started out walking and promptly got lost.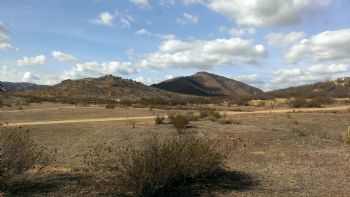 The start of the trail I wanted to take is a little hidden & confused. You might be able to tell from the picture that there's four or five paths crossing and I had no idea which I wanted. But the mountain was pretty!
And the other mountain was nice too! I was enjoying watching cloud shadows on them. Because I'm easily entertained. SHHHH.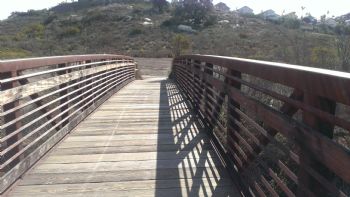 A little ways down, there's a bridge that crosses a little stream...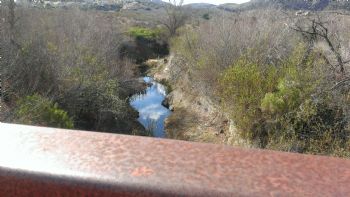 And then after that, there was more lovely flat-ish trail that I was enjoying. You can see some more hills/mountains in the background and just barely make out a lake that I was approaching.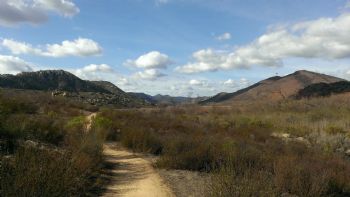 It wasn't much of a lake, but the marshy area in between me and the lake kind of reminded me of the elephant graveyard in Lion King. If the elephants were stalks of woody grass stuff.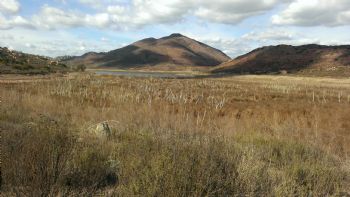 Here's a tree with some rocks and stuff. At this point, the scenery wasn't as impressive as the SOUND. This was starting to get blocked in on 3 sides by rocky hills and there were some amazing bird calls going on. Plus, you could hear running water but not see it!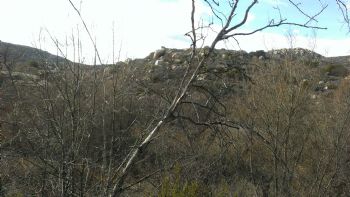 And then you could see it! It was a cute little waterfall.
And then the trail decided it wasn't kidding anymore. The rolling hills turned into steep switchbacks and the trail climbed pretty significantly. I took a picture during a waterbreak halfway up the hill. If you look closely, you can see the trail wrapping around the hill on the right. At the farthest part of the trail you can see is where I took the lake picture!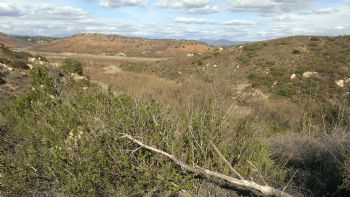 The trail kept kickin my butt for a while, but then it gave a nice break from the sun with some trees and a little foot bridge over the stream that drops down to the waterfall.
I kept going until I reached a point where a new trail started for a loop that would add another mile to the total hike. I decided against the loop for today but here's what I have to look forward to next time!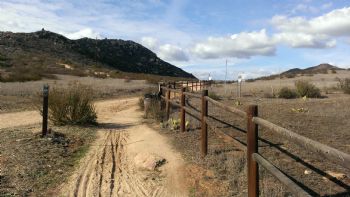 Overall, definitely a step up from the treadmill. Except for the sunburn. I could do without that.