Thursday, February 06, 2014
One thing I like about SparkPeople is the reports you can print out to review your progress, or lack thereof. Today I decided to look at the Weight Report since January 1st, 2014 because the scale just keeps going up & down. There doesn't seem to be any consistency from one day to the next. That is until I ran the report.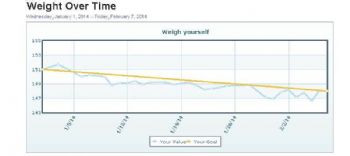 As you can see from the above image, there is an obvious downward trend to my weight. So even though yesterday I was 146.6 & today I am 148.0, I am still losing. The proof is in the pudding.
Have a sparkabulous day!