The old man just received news that no father would ever want to hear and that is - his only son had been killed in combat. For days the old man was stunned with the news as he sat alone and broken hearted in his mansion surrounded by the beautiful paintings that he had become famous for around the world. These beautiful paintings were to be inherited by his only son.
It was on the old man's birthday that a knock was once again heard at the door. A delivery boy had a large package addressed to him and what started him so very much was that it was sent from his son. The old man quickly tore open the package and saw this self portrait of his precious son.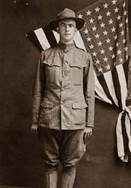 Just days before His Son went into combat he posed for this picture and then left clear instructions as to when and to whom this portrait should be delivered.
The old man clung to the picture with many tears as his heart yearned to hold his departed son. He knew deep down inside that one day he would. For now, he would place it about the mantle of his fireplace where it would catch the eye of anyone who might venture by.
A few years later, after the old man died a great estate sale was conducted just exactly as the owner requested. People from all around the world heard and now eagerly awaited to bid on the famous painting. However, to their dismay, the portrait of the old man's son was put up first. The crowd showed great disapproval and the auctioneer said that he was following instructions and business would not proceed until this portrait had a new owner. There was a little lady in the back that became quite interested and made a low bid for that was all she could afford.
What followed was unheard of! The auctioneer said, "Auction over"! The crowd demanded a quick response. The answer was, "The person who became the new owner of the portrait of the Son, inherits all the rest".
This short story reminds me of an awesome truth found in God's Word.
John 3:36 He that believeth on the Son hath everlasting life; and he that believeth not the Son shall not see life, but the wrath of God abideth on him.
Salvation is extended freely to all for it was purchased by the precious blood of Jesus.