Tuesday, February 04, 2014
My son and his kids invited me to go tent camping with them last weekend. It seemed a good way to get my mind away from the loss of my wife, so I agreed. We went to a place called Inks Lake State Park in the Hill Country of central Texas - just a few miles from where I grew up. Here is a picture of me and the grandkids near the tent.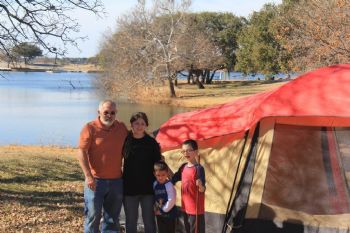 Last Friday and Saturday were warm, with temperatures in the 70s and 80s. It was perfect for hiking and exploring, so I took the kids to some of the places I use to go. Here is a place called "Devils Water Hole" at a large creek that empties into the lake. In the summer people dive off of the large boulder into the lake. They have to push off quite a bit to keep from hitting the rocks below. Needless to say, they all ignore the "Danger" signs posted around there.
Hiking a little further up the creek, we came to a nice overlook of the creek below. The water is a little low this time of year, but it's still pretty scenic.
Hiking down to the creek, we came to a spot that my wife and I used to like to come to in the summer. When the water is running more, it's just like sitting in a whirlpool. Lots of fond memories there...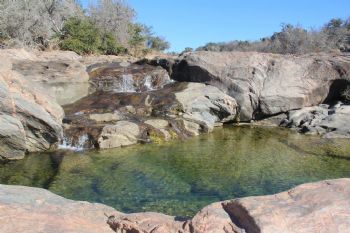 We also went to many other places - unfortunately I left my camera in the car. We had a great time, though, and I got to really visit with the grandkids a lot. The only downside of the trip was the last night. The temperature dropped from the 80s to 34, with lots of wind and rain - not good tent camping weather. We still had a good trip, though, and I think the kids will remember if for quite a while. It was fun!