Tuesday, February 04, 2014
Not sure what is going on with me...not sleeping well, which leads to not eating well, which leads to feeling like crap.
I have not slept well the past few nights. I did get up and workout yesterday morning, but kept hitting my snooze today. I do not have time to workout now before work. I will get my run done at lunch. Yesterday we had a drug rep bring lunch and I ate it...it bit back about 2 hours later. Hello little purple pill. Today the scale is up, up, up. No surprise.
I need to figure out this sleep thing for sure!!!!!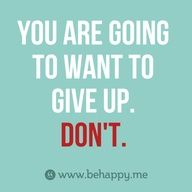 I will get my mojo back!!!!
Have a Sparktastic Day Friends!!!!