Hello Sparkpeople, it has been a very long time since I was last here and even longer since I was consistent on my weight loss journey. To fill you in quickly on what I had been up to, most of you know I left the federal government in 2012. Since that time, I was so consumed with SharePoint and web developer that I honestly didn't have time for anything else. Since 2012, I have held FIVE jobs. Some were supposed to had been long term that ended up being short term. Working as a federal contractor isn't for me and I am very grateful God reopened the door and I begin working directly back for the federal government next week.
Because the process takes so long, I wanted to have my fed ID look nice since I plan to have this job for the next 10 years. This is my dream job. It is a job I interviewed for 10 years ago but had to take a different position in a different agency to be close to home during my first marriage. Today, my son is 21 and I no longer have to carry that burden. I can finally live my dreams.
In November, I did a 21 day "New Job Cleanse" to prepare myself for job interviews. I wanted to get rid of sugar, but sugar is in EVERYTHING!!! So instead I just stopped eating sweets for 21 days. This broke my pop tart and bagel addiction!
In December, I had the job interview. I gave the presentation everything I had and was giving a Christmas present--job offer. By now, I am a size 18 and all my nice suits are size 12. Funds are limited right now (son bills) so I decided to lose weight so I could fit into my clothes by the time I would start. I was originally supposed to begin Jan 26th, but it was pushed back to Feb 10th.
So December 28th, I got serious but not over the top. My highest weight in 2013 was....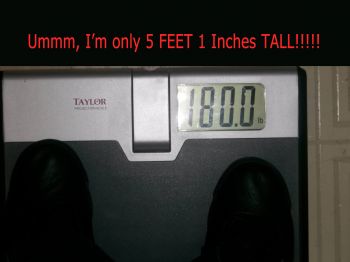 I did some fad diets in 2013 briefly and lost 10 lbs and regained it quickly back. Ironically, when I began my current job in September, the senior developer is a personal physical trainer and the team lead had a tummy tuck and as a result--she worked out even when she was in pain! We all would go out to eat for lunch and I watched what they both ate. I wanted to get up and exercise but my body hurt so much all the time, I just didn't try
So this time, I decided to do youtube documentaries for myself titled, "I Have To Do This For Me". I felt until I did my weight loss for myself and not because the doctors said to, or I needed to fit into a dress or I wanted to look good at work or whatever....that I would continue to change elsewhere in my life but my spirit, emotions and body would remain the same!
Therefore, December 28th, I said enough is enough.
As of Feb 1st, I am...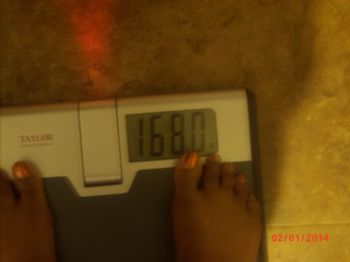 For the first time outside of Sparkpeople, I decided to be very candid with my feelings. It's easy to be candid here because the support here is so genuine, but I felt I needed to speak to myself in a video documentary for the next year to truly see my transformation. I began posting my videos on youtube about 2 weeks ago because typing my feelings create long posts such as this one!!!
Anyone interested in walking with me to shed the emotional baggage as well as the pounds, feel free to walk with me. I won't abandon you this time because I am finally doing the emotional work necessary to break free of all the baggage placed on me over the years! It' easy to quit and do a new program, but for the first time in my life, I feel worthy to look good and to stand up for myself first and foremost.
I kept telling my mom how I look like a piece of luggage thanks others' baggage placed on me.
I was also supposed to create a website for exactly what I am finally doing today...but I was supposed to do it LAST Year but just wasn't ready to get my mind right. Due to being a web developer, I am lerning new software all the time. I am currently self training in drupal and this is where the website will be hosted once completed.
http://www.mybody-mytemple.c
om
I only have the drupal customized theme up right now because I am still learning the application. Thanks for reading this extremely long post and for ALWAYS encouraging me when I really didn't believe the encouragement I would give to myself.
Love you all always! I never stopped thinking about you while away. I was just so broken in spirit that I didn't want to become a negative voice on here. Take care!
Mel