THe past week I have really struggled with the serenity prayer, maybe the last part "understand the difference "(Between what I can change and what I canīt)
I do believe in helping myself by finding tools that leads to where I want. I found AA that has kept me sober for eight years. When I steopd smoking...23 years ago, I isolated myself for the first two weeks, staying away fromthings that was to associated with cigarettes (alcohol, coffe, social gatherings)
But as my other flaws are things thaat I canīt completely stop it does not seem as I can find that "final solution". The defects I suffer most from are clutter, postponing and overeating.... and I find strategies that helps me for a while... and then it seems as they sort of "wear out" or maybe is it that i get boered?
OR - speaking to twelvestpppers - it might be that I have not really accepted that I am powerless in front of these defects.
Anyway, the weight loss strategy that gave me 16 kilos down, does not seem to work anymore. I am having a bad streak of eating chaotically again and although I embarked the "Happiness project" I canīt keep the resolution to devlutter ten minutes every day, I jaut canīt...
February is the month that I start my four month leave from work - that is leave on 40 procent. I still have 60 procent to do. The idea is that I am to find outher sources to an invome to copmpensate with... I am trying hard not to panic, I will survive even if I donīt land a single assignment!.
The fear is that I will give in to my dark side and do nothing...postpone and hide my head in the sand and let the time pass.
The nice thing is that I feel rather good in spite of all these dears passing thorugh my mind. Daughter was here with friend last weekend, they did fourhand on the piano: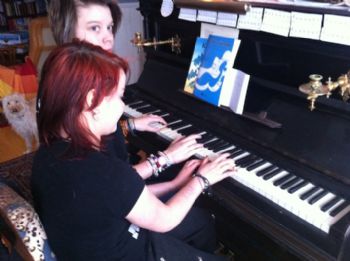 and I feel blessed to have them around!