Hi! I took a new cross fit class as the gym today! Wow, I felt awesome lifting heavy weights, running fast in place, doing burpees, more weights, jumping jacks, high knees, side planks...you name it...we did it! I'll be taking more of those classes!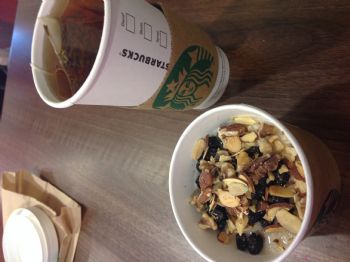 Afterward I went to Target to get MORE workout clothes!! Then, I needed some food and they have a Starbucks inside. I like to grab a magazine and chill there after shopping sometimes! I got a tea and oatmeal with nuts and berries...no sugar. Yum!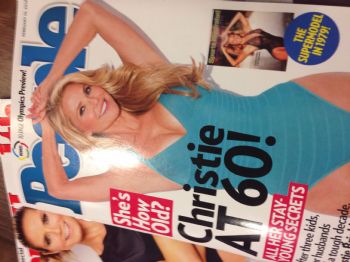 Christie Brinkley is on the cover of people this month and she looks fabulous at 60! Plus, she has two dogs like me:).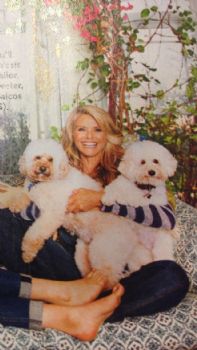 Christie had some good tips for keeping healthy and vibrant in the article...
"-The more active I am, the better I feel.
-I love hanging out in health food stores.
-I treat everyday like I'm eating to fuel my body.
-I stopped eating meat at 13 and follow mostly a vegan diet.
-I'll run and l'll do weights at least 10 minutes a day."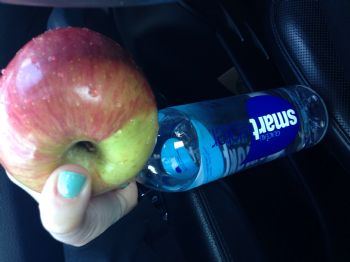 This is just a healthy snack I brought in the car while running around doing errands today.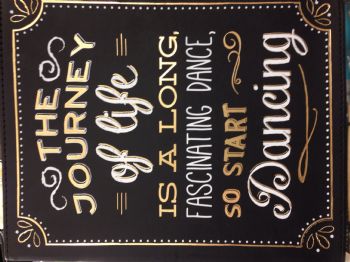 Oh, and I saw this message at TJ Maxx. I love dancing in zumba, so this just spoke to me!
No idea why my photos are often sideways! Oh well.
Have a great day!