Monday, February 03, 2014
I'm 10lbs heavier in one of these pictures. Which one is it?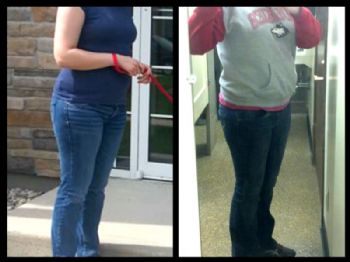 The one on the right was taken today (177lbs), and the one on the left was taken I think in the spring of last year (~165lbs). I guess there is definitely something to be said about having some muscle.
I am so confused by my body composition, compared to what I had 6 years ago. I feel and look skinnier at a higher weight, and I'm not sure why that is. I weighed 177lbs this morning, but I'm skinner than I was when I weighed 155lbs 7 years ago. I suppose I might have a bit more muscle than I did back then, it's all just really strange to me.
The 2 min 30 sec plank was a fail again today - but that's alright, I am still at over 2 minutes! It just sucks seeing 24 more seconds on the clock, and just not being able to hold it any longer. AGHH! It still makes me feel strong, and that's a real accomplishment. I just wish I could push a bit further. Really need to work on my shoulders muscles to keep me up. Does anybody know of any good shoulder strength moves to do, without heavy lifting?