For the life of me, these staying up late nights caught up with me. I ended up laying down later in the day to take a nap. It was actually fairly comfortable taking that nap. I slept longer than I thought I would, but I was fine when I got up. I think part of this tiredness is all the waiting by the phone waiting for the job to call me and tell me I qualify for an interview. I hope it doesn't take weeks and weeks for them to call me. I was told not to call and see if they're thinking about my application, as it went to the corporate office, so it may take a while.
I'm starting to car hunt so that I have the freedom to work. I'm hoping that even if this job doesn't call me, I can manage a good job through a temp service so I can get hired on and we can find the financial freedom we need. It may be hard working different shifts, but it will be worth it in the end.
I decided to have peaches instead of my red and blue fruit blend I usually have.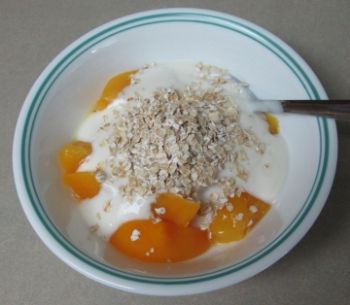 I was not in the mood for eating at all, a headache had started to set in, so my husband made lunch for everyone, eggs and hash browns.
I still wanted a bit more, so I had another piece of pizza, it's all gone now.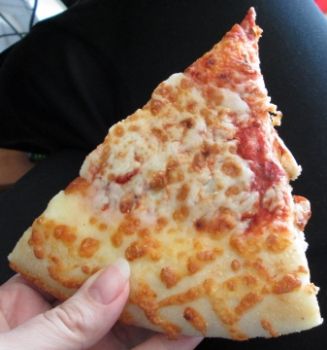 I had a handful of pistachios while playing a computer game.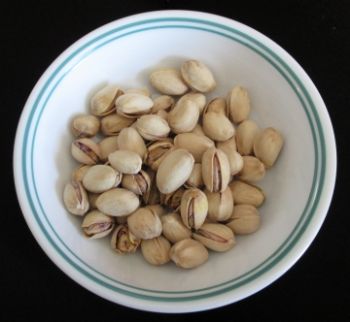 After my nap, my husband was kind enough to prepare dinner, even though I was the one to make the suggestion of what to make. I did have dressing on my salad this time, a raspberry vinaigrette.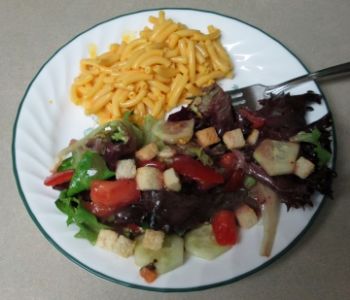 Having not eaten snacks all day properly, I had an apple and a granola bar for a bit of sweetness.
While watching 'Downton Abbey' I got hungry again, so I made up a Nutella and peanut butter sandwich. I'm still looking for a good peanut butter, this one runs at room temperature, I'm not sure if I'll be able to find a 2 ingredient peanut butter (or better yet, just peanuts) that stays firm at room temperature. I ate it too quickly and had some trouble swallowing, peanut butter is not meant to be eaten quickly.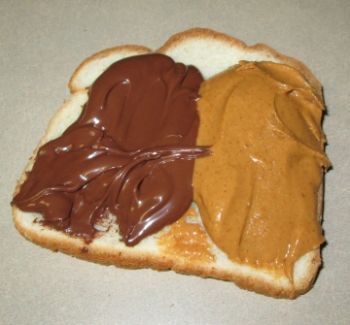 The lack of movement is not helping me, if I were to actually move, I'd easily be losing weight at the rate I'm eating, but this stagnating I'm doing is not allowing the scale to move in the right direction. Stress is not a fun thing.