Not everyone is in to setting resolutions each New Year, and typically I don't set "resolutions" either, but I have been setting some overall goals...and I absolutely love the energy that a brand new fresh New Year brings. There's something about shedding the old and embracing a blank slate, right?
And I did start off 2014 with all kinds of good intentions and some actual goals too! And what have I accomplished so far? Zip, Zero, Zilch, Nada. I actually went in the opposite direction.
I spent a lot of time in January reflecting on the fact that I've been stuck.

I want to lose weight!

I don't want to do anything to actually lose weight!

I know what to do to live a healthy lifestyle!

I know absolutely nothing that actually works for me!

I'm going to exercise my butt off - literally!

I find excuses - both real and imagined - to not push my limits!

I make a plan!

I do nothing with that plan!
I feel like I'm on a see-saw that never ends!!!!! It's frustrating, I tell ya.
So you know what? I'm giving myself a fresh start today. Not tomorrow, not next Monday, not next month...TODAY! Today is "my" New Year and I'm going to get busy and quit getting in my own way. Because I do realize: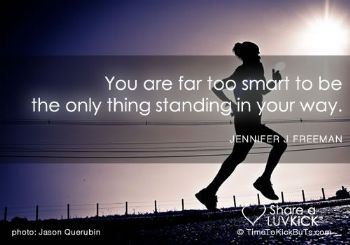 SOURCE:
media-cache-ak0.pinimg.c
om/736x/6d/43/a3/6d43a3d97
a9d1e6edc871a922c1d18b9.jpg
I'm tired of saying these things again, and again, and again and then doing nothing about it. I'm tired of being stuck in a pattern of unhealthy behavior. I'm tired of letting myself down.
But you know what? The only person in the whole entire world that can do anything about it is ME. It's time...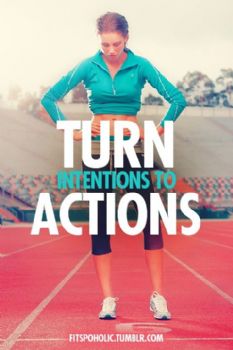 SOURCE:
www.fitfabcities.com/201
3/04/22/motivation-monday-49/
So there's my NEW WEEK, NEW MONTH, NEW (TO ME) YEAR motivation!!! As the commercial slogan goes, "It's only weird if it doesn't work". :-)
Alright - so here's my goals I set for 2014 and how I'm doing and what I'm GOING to do this month to get me closer to them:

Get to my goal weight of 140
OBJECTIVES:

Cut base calories to 1,500: I haven't been doing this at all, so it is my intent to really focus on this during February. And honestly, if I logged in some of the crud I've been eating I would probably cry. No really...I'm not joking about that.

Weekly weigh-ins and monthly measurements: I weighed in this morning, but I may go ahead and just change this to only weighing in monthly along with measurements. So to that end, I am going to do my measurements tomorrow morning! And I'll update my ticker today with the ugly truth.

Track everything: haven't been doing this, but am starting fresh today.

PR in the 5k and 10k distances, and run a full marathon in 2014
STATUS: I had a slight set-back in that I was having some upper-foot pain following my half marathon so I had to take some rest time. I'm doing much better, but am watching it closely to make sure it doesn't get worse, and continues to get better. Last week was a "recovery" week on the calendar so it allowed me to slack off a bit more, but this week it is back to full training. I'm just kinda pissed because I was all fired up with the Nike Training Club app and my phone took a dump last night for no reason. So annoying...so I'm going to have to hope I can get it fixed/replaced quickly (it is only a little more than 30 days old!) So I guess the status is that I'm working on this. :-)

Blog on a more regular basis
STATUS: Non-existent so far; going to blog more consistently this month by going back to what worked for me: Goal progress on Monday, Fitness progress on Wednesday, and Food progress on Friday.

Set monthly goals
STATUS: Haven't done this yet, but will be setting some specific and measurable goals tomorrow or Wednesday (depending on time available)

Devotional or Bible Reading 3x each week
STATUS: I signed up for the Daily Bread to be sent to my email inbox so I'm currently meeting this goal

Be a better friend on Spark and IRL
STATUS: I sent a note to my daughter to give her some encouragement as she has been going through some rough stuff but I haven't been doing as good a job as I would like to, especially on Spark because my time has been limited. I will work harder at that this month.

Date night with hubby 1x each month
STATUS: We went to our son's for the weekend on the 25-26 of January and while there we went out to a movie so I considered that our date for January. I don't have anything planned for February yet, but will make sure something takes place.

Stay accountable to my annual goals by blogging progress monthly
STATUS: February - CHECK!
So I guess my earlier declaration that I'm doing zip, zero, yada-yada-yada isn't exactly 100% true because I am doing some things. I'm just not doing the HARD things...the things that take me out of my comfort zone and drop me into the war zone in my mind. The one that tells me that one cookie won't kill me, that I deserve a treat, that I can't do this, that I'll never achieve my goals. It's a brutal war zone in there...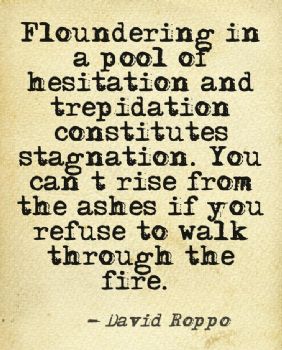 SOURCE:
media-cache-ak0.pinimg.c
om/736x/0d/fb/27/0dfb275da
59b5840e5dfb50830721dc7.jpg
Time to rise from the ashes.