Tallahassee is about a 4 hour drive from home near Orlando, which got us there about 3PM on Saturday. Tallahassee Marathon has a small expo, in the Ballroom at the Doubletree Hilton, and there I picked up my packet.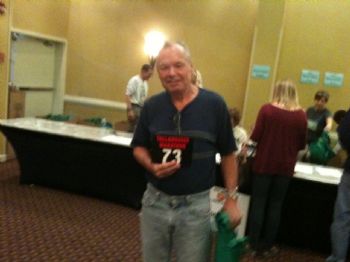 We didn't stay at the Hilton, we stayed nearer the race start at the University Inns and Suites which was very comfortable and saved me some of my retirement funds.
My alarm went off on time, after a restless nights sleep. For some reason I'd woken up several times. Maybe because I'm so used to sleeping in my RV the night before my races. But, it was adequate and I felt fine on raceday morning. Ate my oatmeal and banana with a cup of coffee as usual. Got dressed and was ready to go.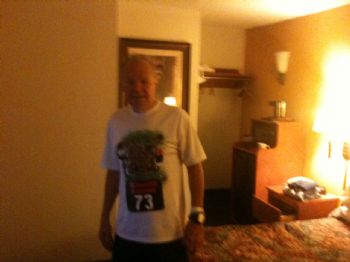 The location at FSU has so much parking. We parked right at the starting line. Found my corral which was way in the back of the pack. I chose the 10:30 and slower. I had printed out a wristband pacer, which was for 4:45 - faster than I anticipated, but allowed me an extra 5 minutes for the second half, since like most of us, I run the second half slower than the first. I figured on around 4:50 for a final time.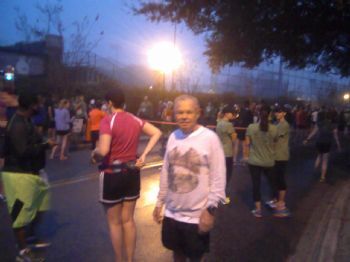 It was cool and humid that morning. The temp was forecast to rise to 77 later in the day, but I was pretty sure it wouldn't be that warm by the time I finished. I lucked out, because it stayed overcast most of the race, we even had a light mist for the first several miles. Excellent running weather.
We started off and even though I was in the back of the pack, it bottle necked a little. No problem for me. I stop running and walk fast enough to keep up with the pack and save my legs for later. It's a good trick, much better than almost running in place like I see so many folks doing. So, my first mile was slower than pace, but not much. I felt good and ran along.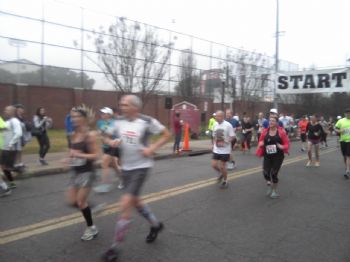 As the miles passed I could see I was running too fast, but I felt great. I was still running within the half marathoners and marathoners, the HMers cut off around mile 7 or so. I was thinking I maybe should slow down, but I decided to continue, I gambled that I'd done enough long runs to know how I should or shouldn't feel - I decided my 3 days of rest was just paying it's dividends, so I kept running just above 4:45 pace.
There was more crowd support compared to last year, too. Even though this race is considered more solitary than some, there was adequate crowd support to keep me going. The police and crossing guards were right in there cheering, too. Was a great place to run. So much GU. Gatorade and water. Every 2 miles there was nutrition, very well done and the support staff was awesome, so much enthusiasm.
Around mile 12, for the first time, I felt a little tired. I made a note of that, and decided I was just in need of nutrition. I took a GU and a caffeine strip. I use the kind which are supposed to melt on the roof of your mouth, but they never work that way, they stick to the foil, LOL. Whether it was the nutrition or the caffeine, I felt fine in a minute. I never felt tired again, that is, until the very last mile.
I ran across the half marathon mat, and it said 2:16 which was 6 minutes too fast, but I still felt great.
Around mile 21 I felt the slightest twinge in my left thigh. The signs of a cramp developing. I stopped and stretched, and once I continued running I could still feel it. I rubbed the back of my leg as I ran. Some very nice lady ran up to me. We'd been trading positions for several miles so she 'knew' me, even though we hadn't spoken to each other. She asked if I was ok and I explained what was going on. She offered me an ibuprofen which I accepted. I had none of my own. She rummaged around in her ziplock bag and fished one out. I popped it in my mouth thanked her profusely, and we both took off. Thank you random lady, for your kindness. That NSAID did the trick and my muscle twinge went away. Still, I backed off on my pace a bit.
The final mile is slightly uphill, and I remembered it from last year. I'm pretty beat by now, and I have to walk a lot more than I had been. But, I was way ahead of my 4:45 pace, I knew I would PR and have a great finish time, so no problem taking it very easy on the last mile. I saved some energy to make the 385 yard trek around the running track on my way to the finish line. The announcer called out my name and hometown, cool. And I looked up at the clock, 4:40:something. A new PR!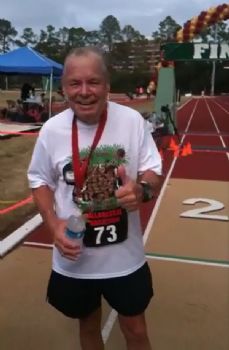 The awards guy was already handing out awards but my AG had not been posted yet, we're too slow, and our winners were not in and posted yet. So he handed awards out to the younger faster runners first. Eventually got around to us, and the fastest runner in my AG had won great grandmasters, freeing up a spot for the next three in line. Lucky for me, because I was 4th place, now bumped up to 3rd place in our AG. Woohoo!! Another marathon AG award, my second 3rd place.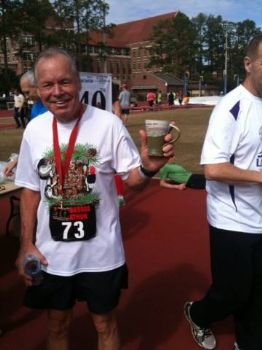 This is a handmade cup with my award printed on it.
I hand't planned on doing so well but it was a flat course, near perfect weather, the perfect storm in racing. Givng me a nearly 14 minute better time than my prior PR. Final time 4:39:48.
Before I sign off, I must admit. I thought about Sparkpeople and my many Spark Friends throughout this entire race. Spark People works! I was encouraged by you all - all through the race. I wanted to do well and finish uninjured and you all helped me do that. Thank you so much.
Thanks for reading and have a great day!