75,000 steps in one day
Sunday, February 02, 2014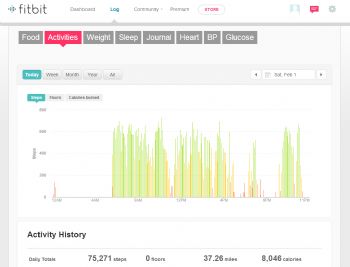 On the 1st of February, I decided to try and set a new personal best on my fitbit. My previous pesonal best was a little over 50,000. As you can see, I just kept moving the whole day except for a few breaks in the evening.
Obviously, this was just a one day thing to see what I could do. My real goal is consistency: trying to get 20,000 to 30,000 steps a day. I think 75,000 is the most I can do without special preparation: getting up early, preparing meals in advance, etc.
I do think my body has 100,000 in it, but I'm going to wait for longer days and warmer weather before I try.
From this experience, I have learned that many of our limitations are ones that we set up in our minds. If we refuse to listen to those negative "voices in our heads" we may surprise ourselves.
The other thing I learned is about the power of a supportive community. Yesterday, I posted on my status that I was going for a personal record. Many of you expressed your support and that really gave me extra motivation. I appreciate you all so much and draw on your strength even when the goal is one pound a week lost, rather than some sort of record. Thank you all.
Spark on friends.